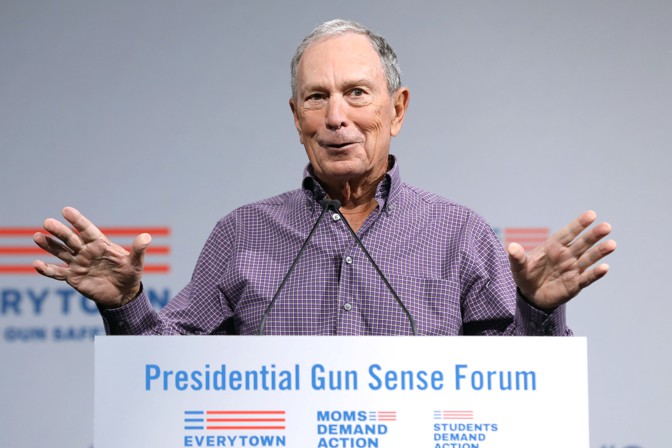 " TODAY IN POLITICS »
(Scott Morgan / Reuters)
Michael Bloomberg, the billionaire former New York City mayor, is reportedly considering a presidential run.
But rather than propelling him to 1600 Pennsylvania Avenue, a Bloomberg campaign could force a reckoning over the #MeToo allegations against him.
Despite the a decades-long trail of disparaging comments toward women, Bloomberg hasn't really been held to account. My colleague Megan Garber, who often offers a clear voice in the tangled era of #MeToo, wrote last year about Bloomberg's history:
These reports suggest the extent of the blind spot. They also suggest, however, the expansive underbelly of #MeToo: the easy entitlements by which men come to see women as existing in part for their pleasure. The stories told of Bloomberg paint a picture of self-centric power, of moral tautologies, of limited empathies.
Despite this recent flurry of activity, Bloomberg may yet decide to forgo a 2020 bid; in fact, when it comes to running for president, he has a penchant for crying wolf.
For a decade, the centrist billionaire has played a game of almost running, and then vowing that he'll definitely not run. In March 2010, for example, The Wall Street Journal reported that Bloomberg was laying the groundwork for a 2012 run. A few months later, Bloomberg told Katie Couric that he was "not going to run for president, period, End of story."
My colleague David Graham has this very short, but very fun, history on the will-he-or-won't-he.
Let's just say Bloomberg is for real this time around. How would his presence affect the race? He may want to be the candidate to block lefty firebrands like Elizabeth Warren from the nomination, but that plan could easily backfire, Peter Beinart argues. Instead, the rumors might be music to Warren's ears, giving her another billionaire opponent to set herself against on the campaign trail.
—Saahil Desai
" WEEKEND READ »
(Todd St. John)
What's the role of the artist in the age of Trump?
Lin-Manuel Miranda (yes, Lin-Manuel Miranda of Hamilton fame) has an essay in our upcoming December issue on the undeniable power of art.
At the end of the day, our job as artists is to tell the truth as we see it. If telling the truth is an inherently political act, so be it. Times may change and politics may change, but if …read more
Source:: <a href=https://www.theatlantic.com/politics/archive/2019/11/politics-daily-michael-bloomberg/601711/?utm_source=feed target="_blank" title="Politics Daily: Bloomberg's #MeToo Problem" >The Atlantic – Politics
(Visited 1 times, 1 visits today)