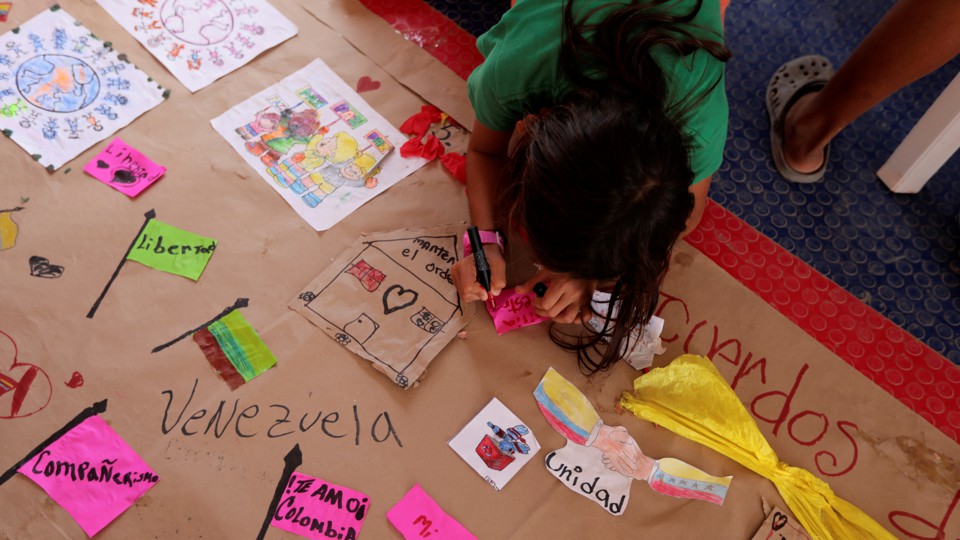 BOGOTÁ, Colombia—This country is already overwhelmed by the Venezuelan migration. Its schools and hospitals are crowded. Its public spaces are overrun. Yet its right-wing government continues, against mild public opposition, to keep Colombia open as more and more people arrive from across the border, fleeing the collapse of their economy.
Most recently, Colombian President Iván Duque extended citizenship to 24,000 Colombian-born babies of Venezuelan mothers, as well as to those born in the next two years. The offer is a generous one for women in Venezuela who would migrate to raise children.
Why does Colombia, with its own problems, compounded by decades of civil war, strive to keep such a charitable demeanor toward Venezuela? Although the country's approach has won praise from humanitarian institutions, Bogotá's plan isn't only about goodwill, but also about a levelheaded attempt to build a framework to manage a migration that's going to come whether citizenship is offered to Venezuelan babies or not.
It certainly makes Colombia seem like a leader in global migration ideas. Although the country is playing catch-up on the issue of birthright citizenship, which is standard across the continent, the direction of its migration policy is notable: It is opening up while other nations, including in the region, are closing down. The approach combines a cold realism acknowledging that nothing will stop the migration with a strategy aimed at economic integration and a heartfelt affection for Venezuela—long a hero in Colombia's own story.
[Read: Colombia's radical plan to welcome millions of Venezuelan migrants]
"For those who want to make from xenophobia a political path, we adopt the path of brotherhood," Duque said in a televised address announcing his decree. "For those who want to outcast or discriminate against migrants, we stand up today … to say that we are going to take them in and we are going to support them during difficult times."
These remarks may seem uncharacteristic of a head of state from the political right today. Years of migration to places such as the United States, Europe, and Australia have prompted wealthy nations to narrow the entryways for immigrants. Politicians have garnered popular support by decrying the dangers of migration. So Colombia makes an interesting example of a less wealthy nation opening rather than shutting doors when confronted with 1.4 million new people—a number that will only rise.
When I asked Colombia's border manager, …read more
Source:: The Atlantic – Global
(Visited 3 times, 1 visits today)