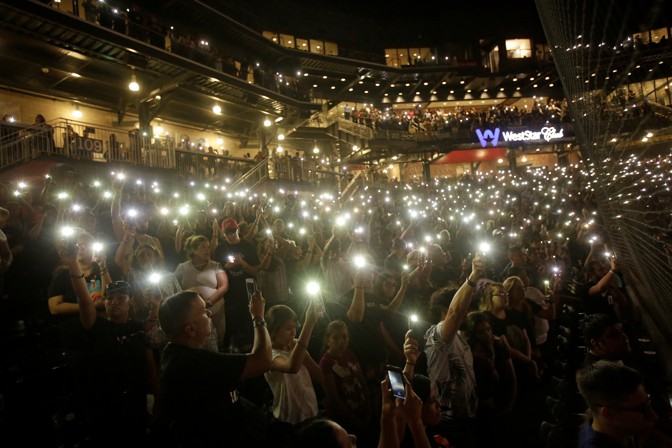 Were you forwarded this email? Sign yourself up here. We have many other free email newsletters on a variety of other topics. Browse the full list.What We're Following Today
It's Thursday, August 15.
No Entry: Israel announced that it would ban Representatives Ilhan Omar of Minnesota and Rashida Tlaib of Michigan from visiting, shortly after President Donald Trump tweeted this morning that in doing so it would show "great weakness," adding that the two women hate "all Jewish people." The country is continuing an established pattern of stifling dissent, Emma Green writes.
Another One Bites the Dust: John Hickenlooper, the former Colorado governor, dropped out of the presidential race today, and said that he intends to "give serious thought" to running for Senate. Here are all the Democrats left in the 2020 race.
But Don't Underestimate Him: Andrew Yang started out the 2020 race as a novelty candidate. But he might have more staying power than many of the other presidential wannabes (see … above).
Plus, he's got jabs: "I challenge Donald Trump to any physical or mental feat under the sun," he told reporters in Iowa over the weekend. "I mean, gosh, what could that guy beat me at, being a slob?"
I'm Rubber, You're Glue: In defending themselves from accusations of racism, the president and his allies have attempted to invert the debate, Ronald Brownstein argues: They've signaled that Trump's reelection campaign will focus on white, blue-collar Americans as the real victims of injustice in the United States. But that approach has obvious limits.
So Long, Farewell: Dan Coats left his post today as the director of national intelligence, and is being replaced by Joe Maguire, who will serve as acting director. Expect whoever takes over the role permanently—be it Maguire or someone else—to become a very consequential figure, Kathy Gilsinan writes.
(Jemele Hill)
"Whatever the numbers, the NFL's new partnership with Jay-Z is a huge win for the league. Some of the biggest celebrities in the world have voiced their support of [Colin] Kaepernick, saying they would boycott the NFL until Kaepernick is back in the league. Now that the NFL has Jay-Z's blessing, it's conceivable that some of those entertainers who distanced themselves from the NFL might change their mind." → Read on.
The Worst Thing That Could Happen to Local News—And the Best (John Temple)
"Gannett and GateHouse are hoping …read more
Source:: <a href=https://www.theatlantic.com/politics/archive/2019/08/israel-bans-omar-and-tlaib-politics-daily/596245/?utm_source=feed target="_blank" title="The Atlantic Politics & Policy Daily: Gone Hickenlooper" >The Atlantic – Politics
(Visited 3 times, 1 visits today)