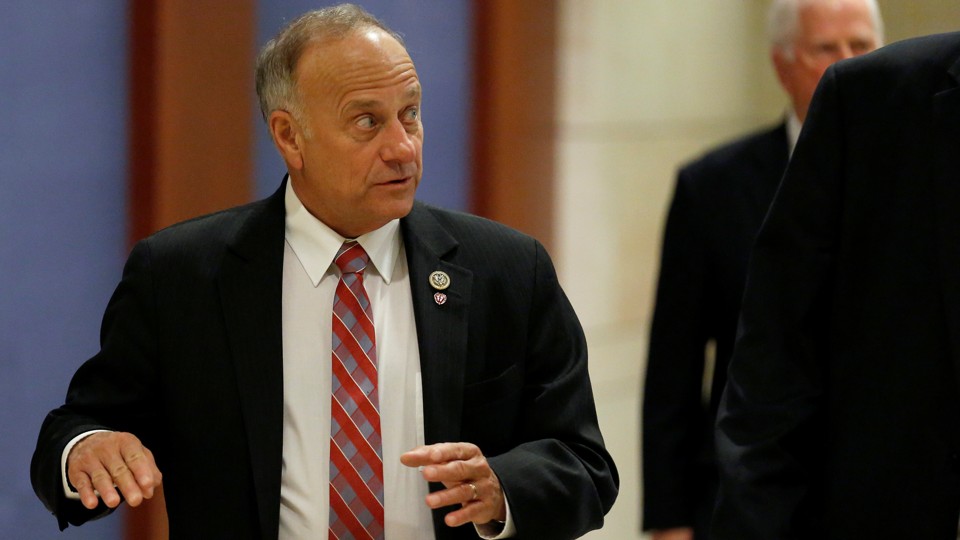 Steve King staying in office could ultimately help Democrats.
Earlier today, the Iowa Republican drew their condemnation when he questioned whether there would be "any population of the world left" if not for instances of rape and incest throughout human history. "Considering all the wars and all the rapes and pillages that happened throughout all these different nations, I know that I can't say that I was not a part of a product of that," he said at an event in Urbandale, Iowa, as he discussed his support for legislation that would restrict abortion without exceptions for rape or incest.
In response, a handful of Democratic presidential candidates are calling (or, in some cases, calling again) for him to resign. But there's an irony to their exhortations: As I reported last week, if King exits before the 2020 general election, it'll be much more difficult for Democrats to win his seat—and turn the entirety of Iowa's House delegation blue.
"You are a disgrace. Resign," Senator Kirsten Gillibrand of New York wrote on Twitter. "Every Iowa leader, regardless of party, should condemn Representative King's comments, an exercise they should all be familiar with by now, and join us in asking for his resignation," said the campaign of Senator Cory Booker of New Jersey. A spokesperson for former Representative John Delaney of Maryland echoed Delaney's earlier calls for King's resignation in light of his "vile, repulsive, and unsurprising" comments.
It's possible that King will step down. (His office didn't respond to a request for comment; neither did House Minority Leader Kevin McCarthy, who's disciplined King in the past, or House Speaker Nancy Pelosi). But it doesn't seem likely: The Iowa congressman has endured similar criticism throughout his tenure in office, during which he's made many racist and otherwise incendiary remarks. As I've reported before, people in Iowa's Fourth Congressional District have supported him all along. The district is rural; it's very religious; and it's mostly socially conservative. People here care "about abortion and guns and freedom," Art Cullen, the editor of The Storm Lake Times, a small newspaper in the district, told me in a July interview. On those subjects, at least, they're in sync with King.
The congressman's closest electoral challenge came in last year's midterms, when the Democrat J.D. Scholten, a former minor-league baseball player and paralegal, lost to King by just 3 percentage …read more
Source:: The Atlantic – Politics
(Visited 4 times, 1 visits today)