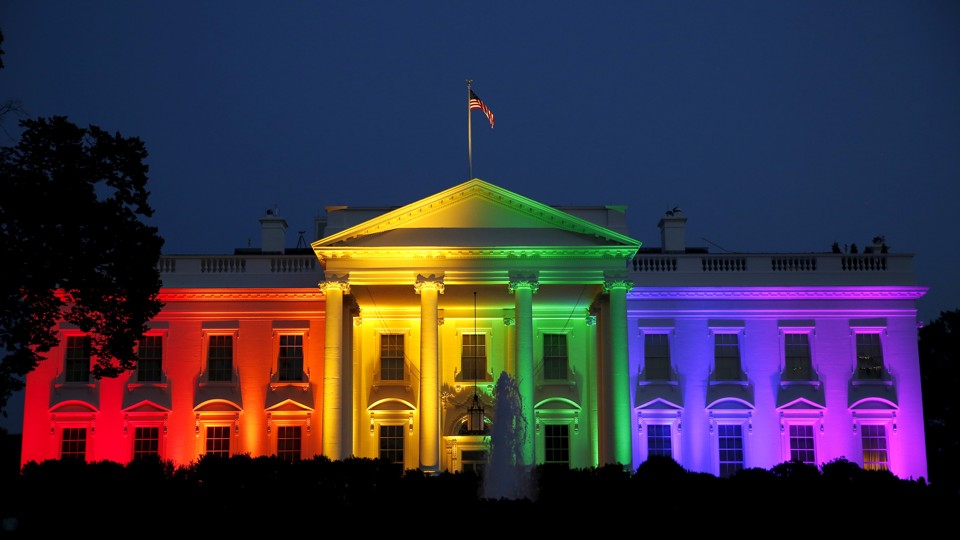 Today, the Trump administration made another major move in its effort to walk back President Barack Obama's contested legacy on non-discrimination policies. Under a proposed new rule, faith-based groups that receive contracts from the Department of Labor would have a wider latitude to make hiring and firing decisions based on their religious teachings.
Progressive activists are already worried that this rule could be used to justify discrimination against LGBTQ people, women who are unmarried and pregnant, non-religious people, and more. But faith groups have long argued that this kind of religious protection isn't about discrimination at all: They say it would allow them to operate with religious integrity and continue to work with the government.
Across the executive branch, Trump administration officials have steadily worked to expand these kinds of religious-freedom exemptions to federal non-discrimination rules. In large part, this a backlash to the Obama administration, which issued a number of discrimination-related rules and executive orders that many faith leaders saw as overly restrictive.
[Read: Trump's battle over LGBT discrimination is just beginning]
While administrative rulings may not be the sexiest part of governance, they can have an extraordinary effect on the hundreds of thousands of contractors that work with the federal government each year, along with their many thousands of employees. For some religious organizations, this new rule may come as a relief—a reprieve from potential lawsuits and a sign that the government values their partnership. But for at least a portion of employees, this new rule may instead represent instability, eliminating one more layer of legal protection at work.
According to the Department of Labor, 420,000 entities are currently registered as potential federal contractors. While this figure might overestimate the number of groups eligible to work with the Department of Labor, it illustrates how far-reaching the federal-contracting system is. Marketplace recently reported that 4.1 million people work as federal contractors; add in sub-contractors, and that number gets far larger.
At least some portion of federal contracts are awarded to religious groups—roughly 2,000 across the federal government each year, according to recent Congressional testimony. In its new proposed rule, the Department of Labor claims that some of these groups have been "reluctant to participate as federal contractors" because they're unsure whether they would be protected from discrimination claims if they hire or fire people on religious grounds.
This rule is intended to clarify that any kind of religious group can …read more
Source:: The Atlantic – Politics
(Visited 2 times, 1 visits today)