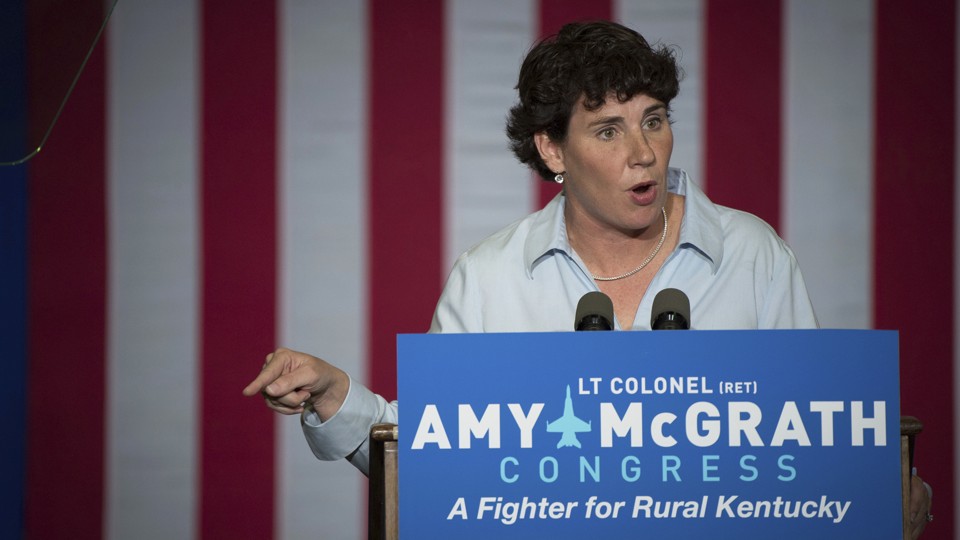 It's official: "Cocaine Mitch" has a 2020 challenger.
The Democrat Amy McGrath, a former fighter pilot turned congressional candidate who starred in one of the most viral political ads of 2018, will take on Senate Majority Leader Mitch McConnell for his Kentucky seat. Her campaign is only two days old, but already the outline of a strategy has emerged: On a few choice issues, McGrath plans to position herself as a sort of pro-Trump Democrat, while framing McConnell as the poster child for a swamp in dire need of draining.
It's going to be a struggle. Defeating the six-term incumbent Republican in the ruby-red state would be an incredible upset in the world of politics—so unlikely as to be almost laughable. It would require a stunning feat of political acrobatics as well as an outrageous amount of money for McGrath to pull it off. And yet, Democrats have hope.
McConnell's approval rating in the state is low, noted Representative John Yarmuth, a Democrat who represents Kentucky's Third Congressional District, and McGrath will have "all the money she needs to compete with Mitch," he told me. "There's an opportunity."
Many were first introduced to McGrath during her high-profile challenge to the Republican Andy Barr in Kentucky's Sixth Congressional District last year. Her aforementioned viral campaign ad, "Told Me," referenced the 44-year-old's military background and her experience as the first woman to fly an F-18 fighter jet. Yet despite securing endorsements from party leaders and raising $8.5 million—an incredible amount for a House race—McGrath lost to Barr by three percentage points. (The McGrath campaign did not respond to a request for comment.)
Losing a House race and returning for a Senate challenge may seem less than intuitive, but Senate Minority Leader Chuck Schumer's persuasion efforts must have worked: McGrath announced her return to politics in a new video, where she pins the country's political polarization on McConnell, describing him as a politician who has, "bit by bit, year by year, turned Washington into something we all despise." A response video from Team McConnell welcoming McGrath to the race frames the Democrat as too progressive for Kentucky, and flashes the grinning faces of Senator Bernie Sanders of Vermont, the former Democratic nominee Hillary Clinton, and Representative Alexandria Ocasio-Cortez of New York across the screen.
McConnell doesn't appear worried—at least, not yet. The Bluegrass State is mostly white …read more
Source:: The Atlantic – Politics
(Visited 4 times, 1 visits today)