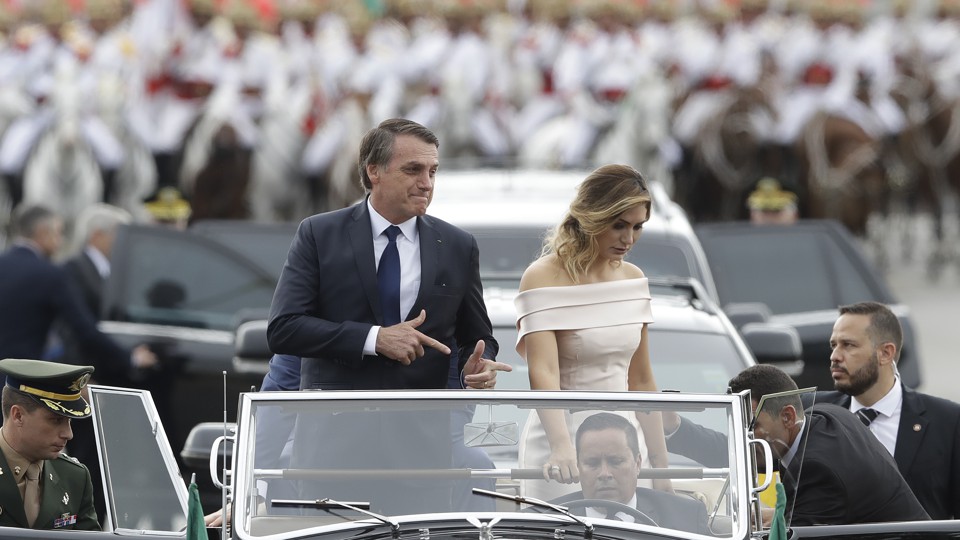 RIO DE JANEIRO—If you're shocked by the transformations that Jair Bolsonaro, Brazil's new president, is planning for his country, you haven't been paying attention.
Riding in on a wave of frustration with more than a decade of left-wing leadership, Bolsonaro has promised to bring dramatic change to Brazil, change intended to make leftists squirm. And if his first two weeks in office tell us anything, it's that those who thought his brash talk—of ending policies creating protected land reserves for indigenous populations or of liberalizing Brazil's gun laws to make it easier for Brazilians to own guns—was just campaign bluster might want to take a serious look at the president's plans. He intends to follow through on his promises, even the most controversial ones.
[Read: What populists do to democracies]
What happens in Brazil has consequences not just for the country, but also for Latin America and the world. Brazil is the continent's biggest economy and home to both the world's largest rainforest and 211 million people. Globally, Bolsonaro's critics fear that he could drive South America's largest democracy toward fascism or even toward a return to military rule. An unapologetic firebrand, he has already signaled that he intends to lead Brazil into a new era. But what exactly will that mean for Brazil, and for everyone else?
Four areas in particular lie at the nexus of Bolsonaro's priorities and critics' concerns: land rights, education, the economy, and public security. What changes does the new president promise on these fronts, and which of those can he actually follow through on? These are the topics to watch in the coming months.
Land Rights
One of Bolsonaro's first acts as president—which he boasted of on Twitter, à la Donald Trump—was to halt all new demarcations of indigenous lands. In effect, that means the decades-long effort by Brazil's indigenous populations to seek recognition and legal title to land has been foiled.
Bolsonaro has argued that demarcated land for indigenous peoples is akin to keeping them "secluded in reserves like zoo animals" when "an Indian is a human being just like us." His critics, though, see an ulterior motive: Stopping the demarcation process opens up land—especially in remote parts of the Amazon—to powerful players such as the mining, farming, and logging industries. Functionally, indigenous reserves have been used as a proxy for environmental protections.
And indigenous peoples are not a strong enough lobbying …read more
Source:: The Atlantic – Global
(Visited 3 times, 1 visits today)