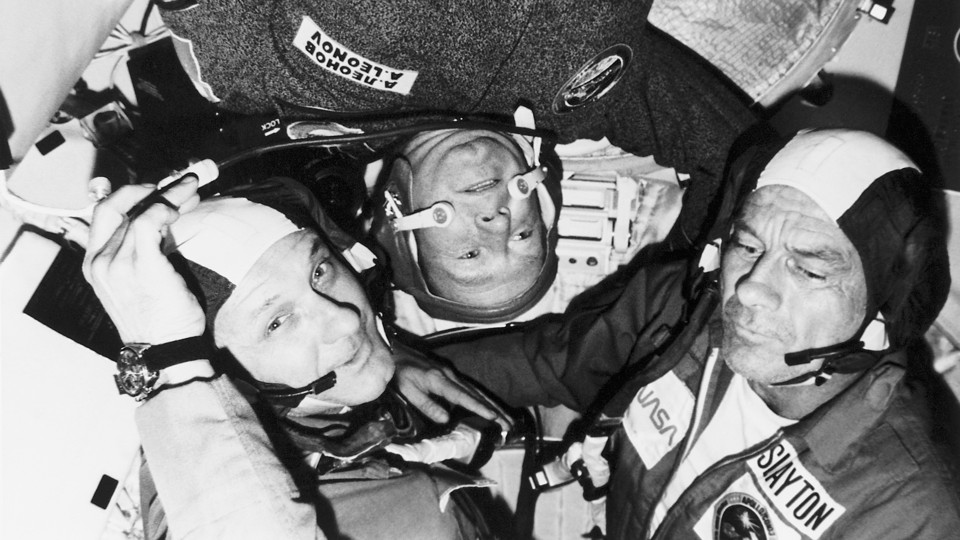 On the afternoon of the failed launch, Jim Bridenstine of NASA and Dmitry Rogozin of Roscomos had only known each other for a few days. Less than a mile from the launchpad, the heads of the American and Russian space agencies watched as the Soyuz system lofted the crew, one man from each country, into the blue sky over Kazakhstan.
But then, inside the crew capsule, alarms blared and emergency lights flashed. Instead of climbing into space, the capsule began to plunge back to Earth. In those stressful moments—before the capsule parachuted gently to the ground, before rescue crews arrived, before the would-be space travels reunited with their families—each official considered what he might say if the failed launch ended in tragedy.
"If we're going to strengthen the partnership with the United States and Russia on space exploration, I think this was probably one way to do it," Bridenstine told me later, after he had returned to the United States. "Everybody became a lot closer on this day."
On the ground, the U.S. and Russia might have conflicting interests, but in space, 250 miles above Earth, they get along nicely. On the International Space Station, American astronauts and Russian cosmonauts share meals, routines, and a stunning view of our little planet. That same spirit of cooperation characterized the handling of the failed launch in October—the quick rescue response, the careful investigation of hardware, the eventual return to spaceflight less than two months later—and after Bridenstine's visit, he sought to return the favor. In Russia, Bridenstine had addressed Rogozin's alma mater, Moscow State University, and he suggested that in early 2019 Rogozin deliver speech at his own, Rice University in Ohio.
But even in a bromance as sunny as this one, sometimes politics finds a way to creep in, and Bridenstine rescinded his invitation.
Some current members of Congress and former national-security officials, mostly Democrats, saw the proposed visit as a mistake, Politico reported, and more lawmakers soon joined the chorus of opposition. The issue: Rogozin is not a typical space agency official. He's an outspoken nationalist and a former deputy prime minister to Vladimir Putin who was sanctioned by the U.S. in 2014 for his involvement in the Ukraine crisis. Those strictures bar Rogozin from entering the U.S., and here was Bridenstine, inviting him to an American campus and telling …read more
Source:: The Atlantic – Science
(Visited 2 times, 1 visits today)