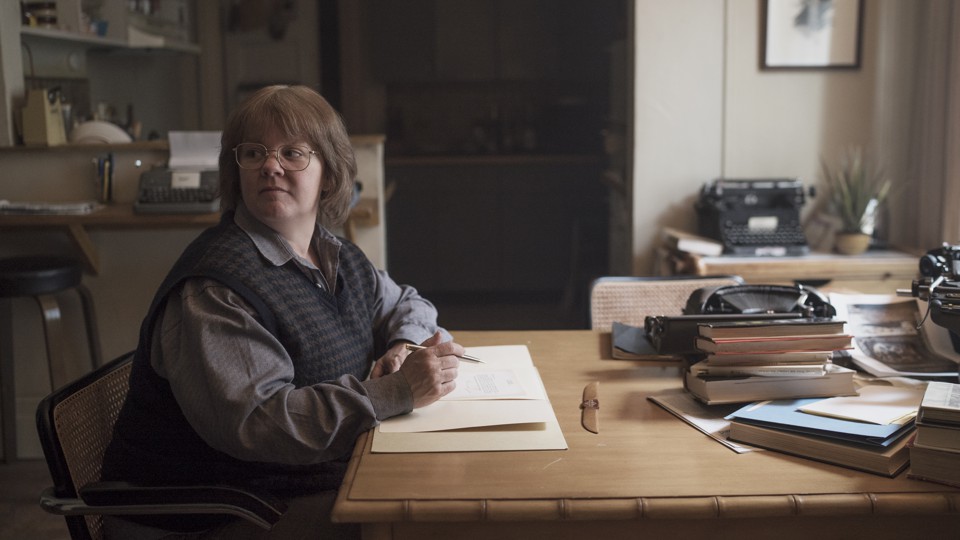 Lee Israel is a phenomenal writer. This point is emphasized again and again throughout Can You Ever Forgive Me?, the 2018 film based on the memoir of the same title, which chronicles the late author's ingenious forays into literary forgery. Commendation for Israel's counterfeit letters—produced under the names of deceased celebrities such as Dorothy Parker and Noël Coward—pours from the lips of every unwitting book and antique dealer who reads them. These brokers, who buy the letters from a near-destitute Israel and sell them to well-heeled clients, heap praise on the prose she has crafted in the voices of others. The dealers call out the brilliance of specific sentences, or simply marvel at the "caustic wit" on display.
All these compliments suggest that, while Israel may lack the stature of the writers she's imitating, her editorial chops are second to none. At one point, Israel—played with mordant bravura by Melissa McCarthy, who is up for a Golden Globe for her lead performance on Sunday—claims she's "a better Dorothy Parker than Dorothy Parker!" And the audience, having already witnessed multiple characters affirm the excellence of her writing, finds itself in no position to argue otherwise. Can You Ever Forgive Me? invests significant narrative energy into the idea that a pure talent for words is what truly makes someone a writer—only to completely subvert that notion in the finale.
One of the questions prompted by the film, which is wonderfully directed by Marielle Heller, is how a writer as gifted as Israel could be forced to resort to illicit activity just to pay the rent. In an early scene, Israel's agent, Marjorie (Jane Curtin), refuses to give Israel an advance for her next book and lectures her about the reasons her career is floundering. Marjorie criticizes Israel's inveterate unwillingness to play the publicity game, do interviews, and schmooze with the who's who of the publishing world. She also blames Israel's fondness for writing about historical figures that readers have little interest in. But Marjorie's main point is that, to attain literary success and celebrity, an author must turn both herself and her work into a marketable commodity. And Israel, a depressive loner who prefers whiskey and the company of her cat to conversations with other humans, just doesn't have the right stuff in that department. "No one is going to pay for the writer Lee Israel right now," Marjorie spits.
It's fitting, then, …read more
Source:: <a href=https://www.theatlantic.com/entertainment/archive/2019/01/can-you-ever-forgive-me-movie-melissa-mccarthy-lee-israel-real-writer/579316/?utm_source=feed target="_blank" title="Can You Ever Forgive Me? and the True Nature of Being a Writer" >The Atlantic – Culture
(Visited 1 times, 1 visits today)