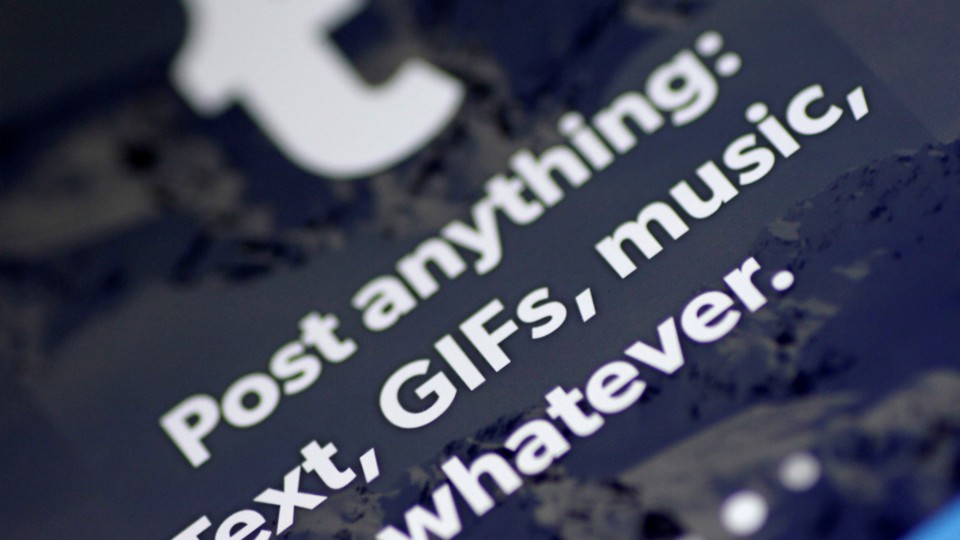 Earlier this week, the blogging platform Tumblr announced it would be scrubbing itself of "adult content." The move doesn't just affect how people look at and exchange nude photos on a downtrodden platform—it portends a broad shift in how we experience intimacy and connection online, in how user-generated content is managed, and in how tech maintains its stranglehold on the digital commons.
The "adult content" Tumblr will be banning, the company wrote, "primarily includes photos, videos, or GIFs that show real-life human genitals or female-presenting nipples, and any content—including photos, videos, GIFs and illustrations—that depicts sex acts." But what the company is really going after is a four-letter word strangely missing from its 538-word announcement: porn. Tumblr may be home to personal blogs, community forums, and foodie photo collections, but pornography makes up a huge part of its reputation. A friend of mine texted me that Tumblr ending porn is like "McDonalds ending hamburgers."
Tumblr's decision was partly motivated by a large child-porn problem. Rather than pay for the expensive work of patrolling the ages of people in porn, you can see why the company would simply want to overcorrect. But its "adult content" wasn't strictly limited to porn. It is—was— a haven community for people who might not be able to connect sexually in other ways. As a reader who might be described as a member of the "cub" gay subculture wrote to me, "porn and related content on tumblr was the primary place I first saw more natural body types for guys." Besides Tumblr, he said, there hasn't always been "any place guys who are average to larger without growing six packs could admire themselves and other guys."
[Read: Is porn culture to be feared?]
Just as Black Twitter gave voice and audience to black writers, Tumblr created the space for sexually nonnormative people to see and be seen in ways they weren't elsewhere. There were Tumblrs for those who identify as bears, furries, HIV-positive, bisexual, disabled, and fat; for people into S&M, pegging, and group masturbation. Whatever your body type or fetish, there was probably a Tumblr community for you.
And this brings us to two problems that go well beyond Tumblr and the legal, but still widely condemned, sexual activities featured on it. The first is that Tumblr's adult communities—like the platform writ large—are driven not just by …read more
Source:: The Atlantic – Technology
(Visited 2 times, 1 visits today)