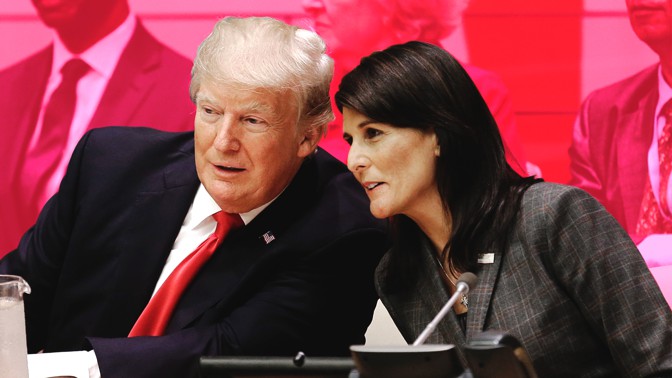 Who, exactly, is Nikki Haley? With just weeks left in her role as the ambassador to the United Nations, I wanted to ask her one of the big questions naturally prompted by her departure: Does she share Donald Trump's iconoclastic, transactional, uber-nationalist vision of America's role in the world?
"I get where he wants to go, and I just have my different style of getting us there," Haley told me when we met in Washington, D.C., on Wednesday. Over the course of our conversation, on the morning of George H. W. Bush's state funeral, she made the case for a values-driven U.S. foreign policy—albeit one that she herself has selectively applied—with hard-nosed diplomacy at its center.
She highlighted the value of Trump's bluster about attacking North Korea, even as she told me that "diplomacy is always the right option because war is never a good option." She recognized Saudi Arabia as a vital partner against Iran, but insisted that Riyadh can't be given "a pass" for the murder of the journalist Jamal Khashoggi, pointedly noting that the Saudi crown prince's "government did this, and so he technically is responsible." And Haley, who has announced her resignation but won't leave her post until the end of the year, acknowledged daylight between her and the president.
"I think we agree on most things," she said. "There are certainly things that we don't agree on. And when we talk about it, he's the president. … My job is to go and do what he needs me to do. But for the most part he's been very willing to listen and very willing to come around."
A 46-year-old, exceedingly popular Republican politician, Haley is the daughter of Indian immigrants and a former South Carolina governor who is often discussed as a potential presidential candidate. Her reflection on her tenure at the UN, and the moral calling she felt underpinned it, was a vivid reminder that the president's America First vision isn't necessarily the settled future of the Grand Old Party. It was also an object lesson in how Haley, perhaps more skillfully than any other top administration official, has navigated major differences with Trump while cultivating common ground. And she's done it representing him at an organization he once denounced as no friend to the United States.
"The most dangerous thing we can ever do is show a blind eye …read more
Source:: The Atlantic – Global
(Visited 1 times, 1 visits today)