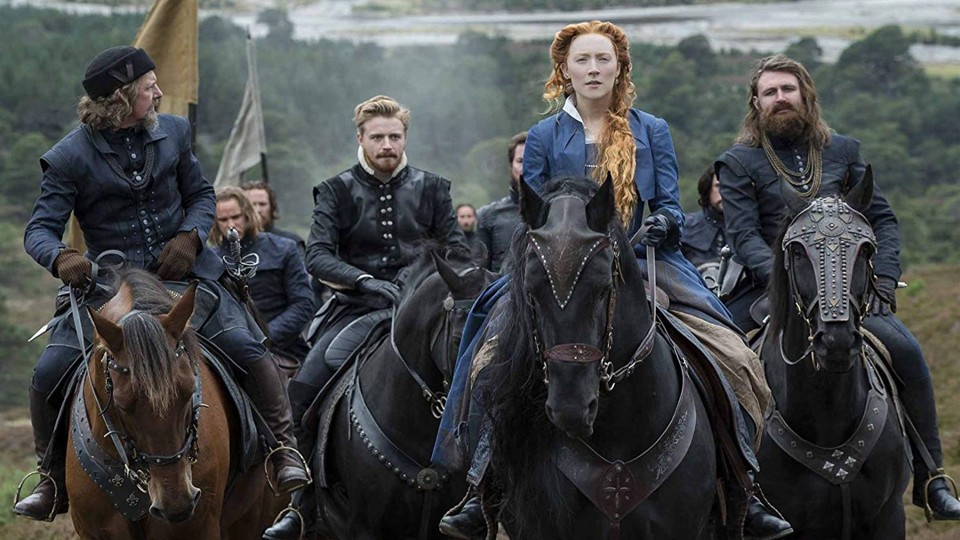 A 2018 film set centuries ago in Britain's royal halls of power, a period piece laden with the requisite opulent costumes and set dressing, also does something new with the genre: interrogating the sexist limits on what women in this world could achieve. That movie, Yorgos Lanthimos's The Favourite, is about Queen Anne; it's in theaters now and is well worth seeing. Mere weeks after that film's release comes a similar work, this time examining two of Britain's most significant female rulers. But while Josie Rourke's Mary Queen of Scots is sumptuous and beautifully designed, it also (unlike The Favourite) indulges in every threadbare period-film trope.
Bow to No One blares the movie's poster, but Rourke's film (her debut, after a storied theater career) exhibits no such defiance toward the clichés of its genre. Written by Beau Willimon (the creator of House of Cards and co-writer of The Ides of March), it's a potted history of the 1560s political skirmish between Mary (Saoirse Ronan), the Queen of Scotland, and her cousin Elizabeth I (Margot Robbie), the Queen of England. Yet the story takes certain dramatic liberties with their relationship. Willimon, who has never met a subject he couldn't radically simplify, frames their rivalry as two sides of a coin without making a diligent effort to explain what makes them so different.
The major divide between the cousins was religious in nature. Elizabeth was a Protestant and Mary a Catholic—a split that was the underlying cause of so many political and military battles of the era. Mary, who was raised in France and arrived in Scotland to rule the country at age 19, was championed as a potential Catholic heir to the English throne, but she was despised by Scottish (and English) Protestants. That issue plays its part in Mary Queen of Scots, but largely in the background; the theological tension is embodied by the character of John Knox (David Tennant), the founder of the Church of Scotland, who speaks in sexist, anti-Catholic screeds and constantly demands Mary's resignation.
Pushed to the fore is the notion that Mary and Elizabeth were both doomed by their womanhood and the fickle, squabbling men who crowded their courts. Ronan plays Mary as confident but opaque, a leader willing to hear counsel on the delicate politics of her country, but just as prone to rash, sometimes disastrous, decision making. She dominates the movie's action, riding around the …read more
Source:: <a href=https://www.theatlantic.com/entertainment/archive/2018/12/mary-queen-scots-movie-eview-saoirse-ronan-margot-robbie/577498/?utm_source=feed target="_blank" title="Mary Queen of Scots Is a Shallow Take on a Fascinating Rivalry" >The Atlantic – Culture
(Visited 1 times, 1 visits today)