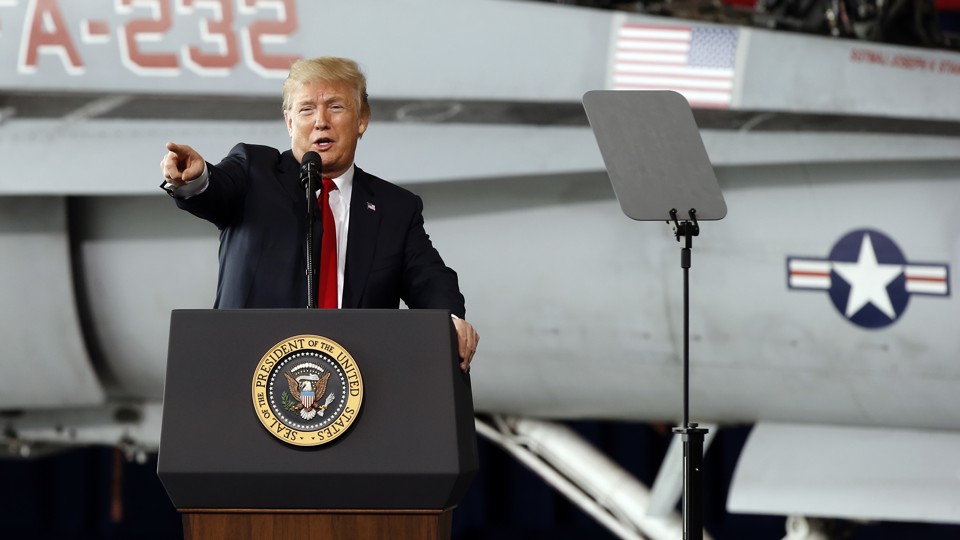 For the past several months, Donald Trump's administration has explored the creation of a new military branch to protect national interests in outer space. Perhaps no one is as excited about this effort as President Trump, who came up with the idea.
"He only asks me about the Space Force every week," Mike Pence joked at a meeting of the National Space Council last month, where members formulated plans to bring the Space Force to life.
But the outcome of the midterm elections has derailed their efforts. The Trump administration cannot establish the Space Force on its own. It needs Congress. It needs individual lawmakers to support the proposal, and then translate that support into legislation that provides funding and empowers government officials. And, in an ideal world, those lawmakers would be in the majority.
With the House of Representatives flipped and Congress split, the Trump administration's Space Force will probably never get off the ground. The House Armed Services Committee, which recently directed the Pentagon to explore the potential organization of the Space Force, will now be led by Democrats, and the lawmaker poised to become chair doesn't support it.
"I am opposed to President Trump's proposal for a Space Force," Adam Smith, a representative from Washington State, said in a statement Wednesday. "I am concerned that his proposal would create additional costly military bureaucracy at a time when we have limited resources for defense and critical domestic priorities, and I do not believe it is the best way to advance U.S. national security."
This summer, Trump approved a Congress-passed defense-policy bill for fiscal year 2019 that directed the secretary of defense's office to "develop a space war-fighting policy." Defense Department leadership instructed staff to compile a budget proposal specifically for a Space Force for the next round of appropriations, which will cover fiscal year 2020, but it's unclear how successful the effort will be in a Democratic-controlled House.
But even before the midterm elections, the Space Force proposal had tepid support among lawmakers, including Republicans. Mac Thornberry of Texas, the current chair of the House Armed Services Committee, refused to provide a definite stance, saying he preferred to wait for more precise details from the Pentagon. The Senate side took a similar wait-and-see approach. Senator Joni Ernst of Iowa, a member of the Senate Armed Services Committee, said she was "open to …read more
Source:: The Atlantic – Science
(Visited 2 times, 1 visits today)