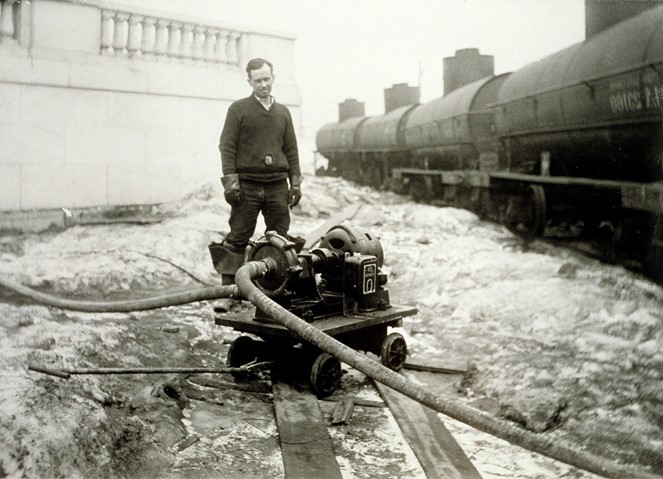 Chicago is 800 miles from the nearest ocean, so when the world's largest aquarium opened there in 1930, its director decided, logically, that the ocean must come to Chicago. The Shedd Aquarium sent a series of railway tank cars down to Key West, Florida. There, they siphoned up a million gallons of ocean water for Chicago's ". In Chicago, water temperature makes a big difference, too. The city gets its drinking water from Lake Michigan, which can be close to freezing in the wintertime. "It could take a whole 24 hours for it to mix properly and to be nice and crystal clear. In the summertime, it might only take a matter of hours," says Allen LaPointe, the Shedd's vice president of environmental quality.
The National Aquarium in Baltimore sits right on the harbor, but it too makes synthetic saltwater for its marine mammals and fish. For one, the harbor water is brackish and not salty enough on its own. And even if the aquarium wanted to add salt to that water, the harbor is pretty polluted. Instead, the National Aquarium makes use of Baltimore tap water and a salt blend called Omega. The aquarium used to make its own salt blend from food-grade individual components. Making it in-house was cheaper, but more labor-intensive, according to Andy Aiken, the National Aquarium's director of life support. "It also introduced the opportunity to make mistakes," he says. For instance, forgetting the potassium (just 0.04 percent of seawater) could be disastrous for the fish that depend on it.
Aquariums that can pipe saltwater directly from the ocean do, and Monterey Bay Aquarium, in California, is the prime and enviable example. "Monterey is in this fantastic location," Aiken gushed to me. "It's everybody's dream." The bay is ringed by protected marine areas, so its water is exceptionally clean. At the back of the aquarium are two intake pipes that supply all the building's saltwater tanks. "We're literally physically connected to the bay," says Kasie Regnier, the director of applied research at Monterey Bay Aquarium. The pipes can bring in almost 2,000 gallons of water a minute.
Giant pipes beneath the Monterey Bay Aquarium carry seawater from the ocean to the aquarium's exhibits. (Monterey Bay Aquarium)
It works out great, except for the jellyfish problem. In certain years when the conditions are right, big swarms of jellyfish will appear in the bay. "They get sucked …read more
Source:: The Atlantic – Science
(Visited 2 times, 1 visits today)