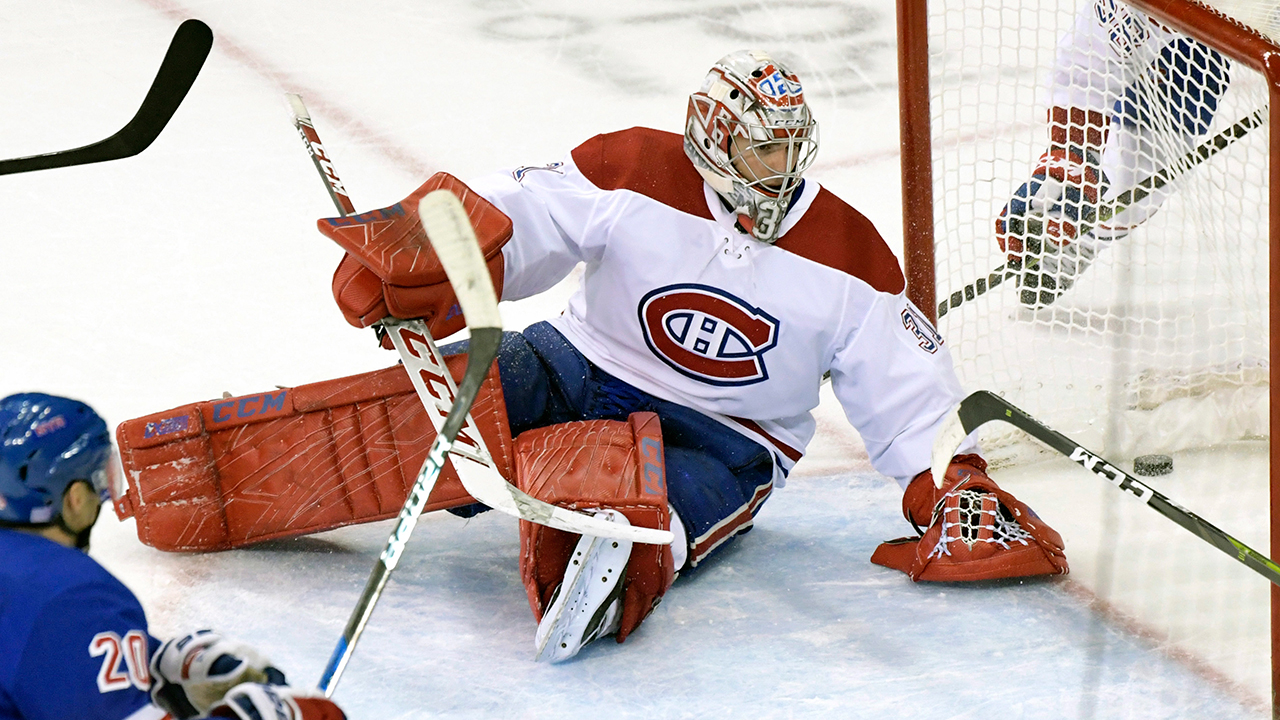 NEW YORK—You can't pin a loss on a single player when your team has a two-goal lead with a less than 23 minutes left to play and ends up squandering it.
That's why Montreal Canadiens coach Claude Julien abstained from answering when he was asked to evaluate goaltender Carey Price's performance following his team's 5-3 loss to the New York Rangers at Madison Square Garden on Tuesday.
"I'm not talking about any individuals, because I think as a group we weren't very good," Julien said. "At the end of the day, we made a lot of individual mistakes, a lot of mental mistakes. Whatever it is, it was self-inflicted."
No one would argue with that.
The Canadiens, who had averaged four penalties per game in their first 14 contests, took five in the second period alone and eight total in their 15th.
In the first period, they allowed three two-on-ones and got burned on the third one when Chris Kreider deposited the puck into an open net.
In the third period, the Canadiens sat on their heels and allowed the play to come to them—and it did in waves.
Price wasn't to blame for all of that, but the fact remains that he didn't allow the Canadiens to leave New York with two valuable points in the bank.
if ( "1" == true && 'undefined' !== typeof window.getIndexAds ) {
var so = {preroll:{1:{1:{siteID:191888},2:{siteID:191889}}}};
adServerUrl = window.getIndexAds( 'http://pubads.g.doubleclick.net/gampad/ads?sz=640×360&cust_params=domain%3Dsportsnet.ca&iu=%2F7326%2Fen.sportsnet.web%2FVideo&ciu_szs=300×250&impl=s&gdfp_req=1&env=vp&output=vast&unviewed_position_start=1&ad_rule=1&vid=5858530054001&cmsid=384', so, permalink);
} else {
adServerUrl = "http://pubads.g.doubleclick.net/gampad/ads?sz=640×360&cust_params=domain%3Dsportsnet.ca&iu=%2F7326%2Fen.sportsnet.web%2FVideo&ciu_szs=300×250&impl=s&gdfp_req=1&env=vp&output=vast&unviewed_position_start=1&ad_rule=1&vid=5858530054001&cmsid=384";
}
$el.after( unescape("%3Cscript src="" + (document.location.protocol == "https:" ? "https://sb" : "http://b") + ".scorecardresearch.com/beacon.js" %3E%3C/script%3E") );
$( document ).one( 'ready', function() {
$( "#video_container-812063" ).SNPlayer( {
bc_account_id: "1704050871",
bc_player_id: "rkedLxwfab",
…read more
Source:: Sportsnet.ca
(Visited 4 times, 1 visits today)