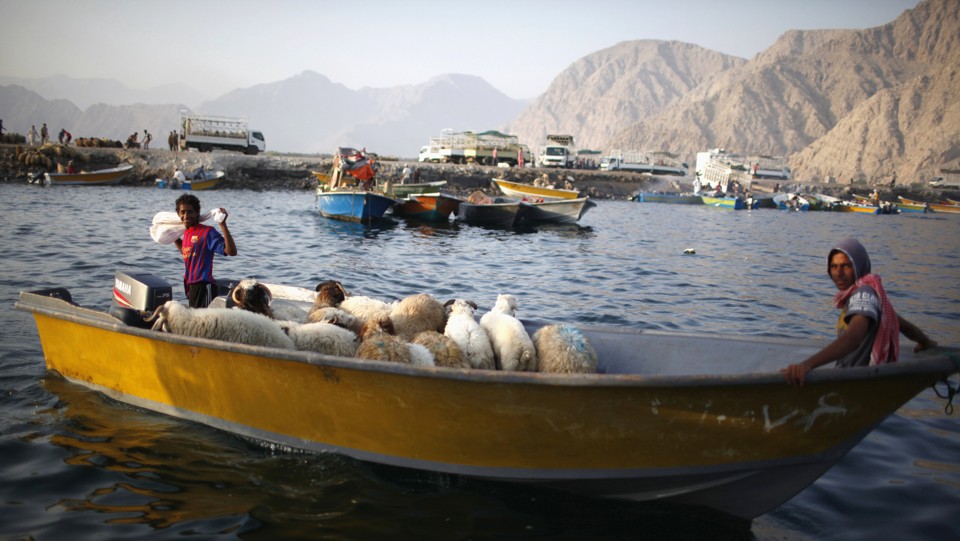 Front companies, barter deals, oil transfers on the high seas: These are just some of the methods that Iran could employ to keep its economy limping on after American sanctions targeting the country's oil industry went into effect at midnight on Monday.
Iran has plenty of experience here, having already been subject to stringent international sanctions over its nuclear industry, which choked its economy. That changed in July 2015, when it signed a deal―the Joint Comprehensive Plan of Action―with major world powers, including the United States. That accord has legal standing and the imprimatur of the United Nations.
Washington's withdrawal from the agreement in May—coupled with its decision to not only reimpose sanctions on Iran, but also punish nations that continue to trade with it—has all but guaranteed that Tehran will return to its old playbook.
Read: How Iran can evade sanctions this time
Here are some of the steps that Iran has taken in the past to evade U.S. sanctions. (Spoiler alert: Richard Nephew, a sanctions expert who helped negotiate the JCPOA, told me that most of these efforts will likely fail.)
Hiding Its Oil Tankers in Plain Sight
An automatic identification system is a safety feature on vessels that allows them to be tracked almost in real time. The catch? It can be turned off. A vessel that doesn't want everyone to know that it is delivering oil to a particular port will simply switch off its transponders and switch them on again once it has left the area.
"It's a pretty effective tactic, keeping the customers shielded as well," said Paulina Izewicz, a London-based researcher who studies Iran and North Korea at the Middlebury Institute of International Studies at Monterey, California.
Iran is employing this tactic again by turning off transponders on its tanker fleet, she said. This allows the tankers to serve as floating oil storage for those willing to buy Iranian crude in violation of U.S. sanctions.
Ship-to-Ship Transfers
This is a commonly used—and legal—method to break up a large shipment of cargo into smaller ones. But Iran has used it to conceal oil sales.
It works like this: An Iranian tanker is stationedy either near a port or in the open sea, and it transfers oil directly to a second vessel. The second vessel then travels to a port, where it sells the oil. The goal, the U.S. Treasury Department said in …read more
Source:: The Atlantic – Global
(Visited 4 times, 1 visits today)