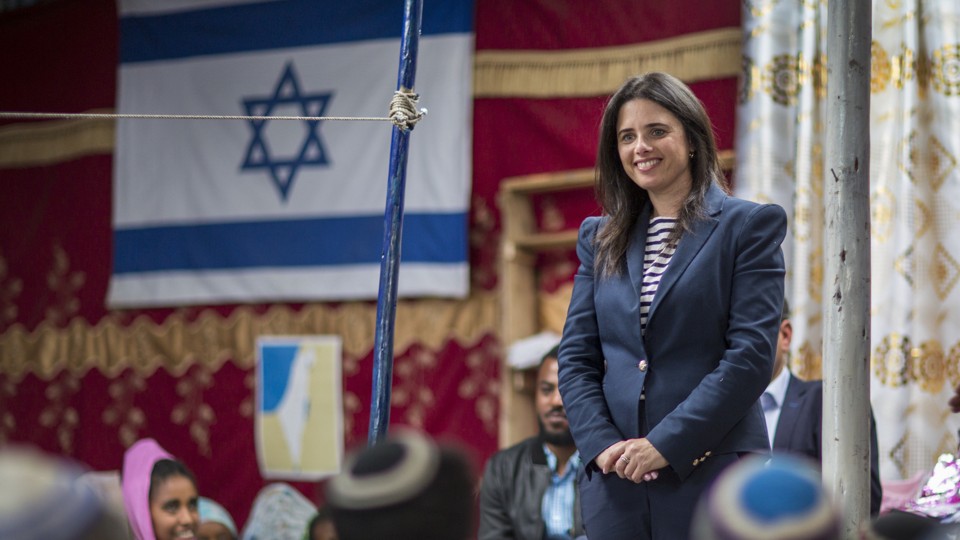 Israel's Prime Minister Benjamin Netanyahu is fond of showing his visitors an ancient seal unearthed in Jerusalem, thought to date back more than 2,700 years. Its inscription is similar to the prime minister's family name—proof of the historic bond between the Jewish people and their land, and perhaps (one might surmise) also of the eternal bond between Netanyahu and his office. After nearly a decade of unbroken rule, the prime minister has created an aura of irreplaceability—for now. His brand, much like that ancient seal, shows no sign of abrasion, and with an election year fast approaching, it seems likely that he will continue as prime minister.
However, since the proliferation of corruption cases against him, a once unthinkable question has arisen among both his supporters and his opponents: Who will eventually replace him? Increasingly, in conversations in political circles, a surprising answer is emerging: Ayelet Shaked, the minister of justice.
A recent survey published in the Israeli daily Maariv found that if Shaked were heading Likud, the party would win the same number of Knesset seats—33 out of 120—as it would under Netanyahu's leadership. This is no less than a sensation. The road from here to there is long and tortuous: For starters, numerous hungry contenders from within Likud are jockeying for the crown. Shaked, meanwhile, is not even a member of Likud but of its bitterest rival on the right, the Jewish Home party. Still, if Netanyahu has a mirror on the wall telling him that he's the most popular guy in the kingdom, this may be the moment his political Snow White makes her appearance.
How did an unknown computer engineer transform herself into a potential prime minister in just five short years? How did a woman who once worked for Netanyahu become one of his most formidable rivals? And how did a secular woman from left-leaning Tel Aviv become the most successful spokesperson for the religious-nationalist party and the settlement movement it strongly supports?
Even in Israel—a land of milk, honey, and a fresh news item every 60 seconds—Shaked, just 42 years old, is a head-spinning success story. She's far from being in the consensus; some admire her deeply, while others see her as nothing less than a danger to democracy. But even her fiercest detractors admit that she is the most effective player currently operating in Israel's roiling political arena.
"I see myself as someone who's come along to …read more
Source:: The Atlantic – Global
(Visited 5 times, 1 visits today)