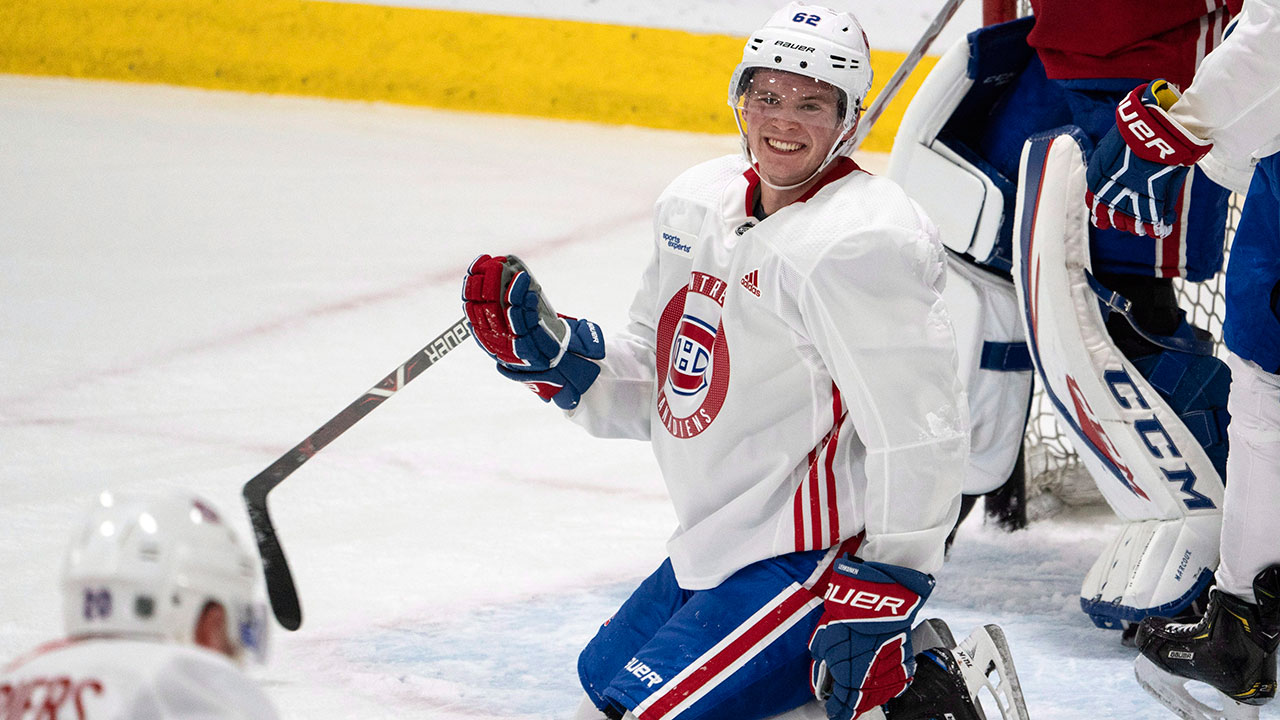 MONTREAL — You could see Montreal Canadiens forward Artturi Lehkonen's eyes light up from a kilometre away.
The Finnish winger hopped off the bench early in Sunday's intra-squad scrimmage, after all the hard work had already been done by his teammates, and then he drifted to the top of the right faceoff dot, prepared himself for the one-timer pass from David Schlemko, and ended up unleashing a laser that beat Carey Price high over the blocker.
"That was an absolute bomb," said goaltender Charlie Lindgren, who watched from 180 feet away as the puck ricocheted out of the net as fast as it went in.
It was just about the easiest goal Lehkonen had scored in a calendar year, and he's hoping there are many more of them on the way.
For Canadiens fans wondering where the goals are going to come from this season, with former 30-goal scorer Alex Galchenyuk and perennial 30-goal scorer Max Pacioretty now plying their trades for other teams, the hope has to be that Lehkonen can help pick up some of the slack.
Of course, expectations were reasonably high after Lehkonen authored an 18-goal rookie campaign in 2016-17. Consensus was that he was ready to lock down a top-six spot and contribute much more regularly on the scoreboard.
But a confluence of bad luck and a bad injury limited the 55th overall draft pick in 2013 to just 12 goals in 66 games last season.
"Obviously I have to be a lot better for our team," Lehkonen said after standing out as one of the best players on the Bell Centre ice on Sunday. "Last year was a huge disappointment for me and our team and I've got to be better."
if ( "1" == true && 'undefined' !== typeof window.getIndexAds ) {
var so = {preroll:{1:{1:{siteID:191888},2:{siteID:191889}}}};
adServerUrl = window.getIndexAds( 'http://pubads.g.doubleclick.net/gampad/ads?sz=640×360&cust_params=domain%3Dsportsnet.ca&iu=%2F7326%2Fen.sportsnet.web%2FVideo&ciu_szs=300×250&impl=s&gdfp_req=1&env=vp&output=vast&unviewed_position_start=1&ad_rule=1&vid=5834676229001&cmsid=384', so, permalink);
} else {
adServerUrl = "http://pubads.g.doubleclick.net/gampad/ads?sz=640×360&cust_params=domain%3Dsportsnet.ca&iu=%2F7326%2Fen.sportsnet.web%2FVideo&ciu_szs=300×250&impl=s&gdfp_req=1&env=vp&output=vast&unviewed_position_start=1&ad_rule=1&vid=5834676229001&cmsid=384";
}
$el.after( unescape("%3Cscript src="" + (document.location.protocol == "https:" ? "https://sb" : "http://b") + ".scorecardresearch.com/beacon.js" %3E%3C/script%3E") );
Source:: Sportsnet.ca
(Visited 3 times, 1 visits today)