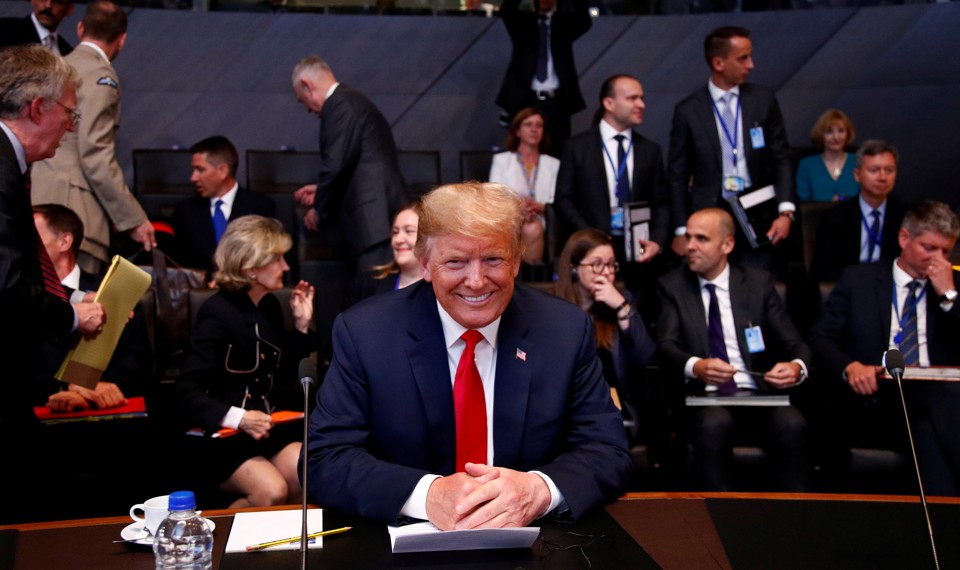 On Wednesday, the president of the United States focused his fire on the unacceptable economics of the military alliance America has led since the aftermath of World War II.
"What good is NATO," Donald Trump asked, while attending a meeting of the alliance in Brussels, if Germany is buying billions of dollars worth of gas and becoming more dependent on energy from Russia, the very country NATO is designed to deter? "The U.S. is paying for Europe's protection, then loses billions on Trade," he tweeted, demanding that the 24 NATO members (including Germany) that aren't spending at least 2 percent of their gross domestic product on defense do so "IMMEDIATELY."
But while Trump couched his criticism in terms of dollars and cents, it's actually not, to quote Jessie J, about the money—at least not entirely. It's fundamentally about his genuinely radical way of thinking about allies.
If the president's problem with NATO was only about money—about more equitable "burden-sharing" among allies, as Trump's NATO ambassador told reporters in a recent briefing—he might have refrained from repeatedly exaggerating the imbalances in NATO contributions. He might have claimed victory this week in Brussels for spurring Canada and NATO's European members to commit to an additional $266 billion in military spending by 2024, even if that leaves some countries short of the target 2 percent of GDP. Or he might have stuck to the 2-percent goal in Brussels, rather than abruptly informing stunned European leaders that he would now like them to spend 4 percent of their GDP on defense—more than the United States itself presently devotes to its military.
What most distinguishes Trump's critiques from those of previous U.S. presidents—who at times complained about free-riding friends and acted unilaterally when partners were perceived as obstacles to pursuing U.S. interests—is that Trump's grievances aren't just about having to expend more resources than America's allies, or about expending those resources on alliances that aren't demonstrating their value. They're also about what Trump apparently considers the supreme folly of investing in alliances that harm or even constitute direct threats to the United States.
As Trump seems to see it, allies—with their free-trade deals and military alliances and unending expectations of preferential treatment—tie down the United States, Gulliver-like, and infringe on its sovereignty. They cynically take advantage of …read more
Source:: The Atlantic – Global
(Visited 6 times, 1 visits today)