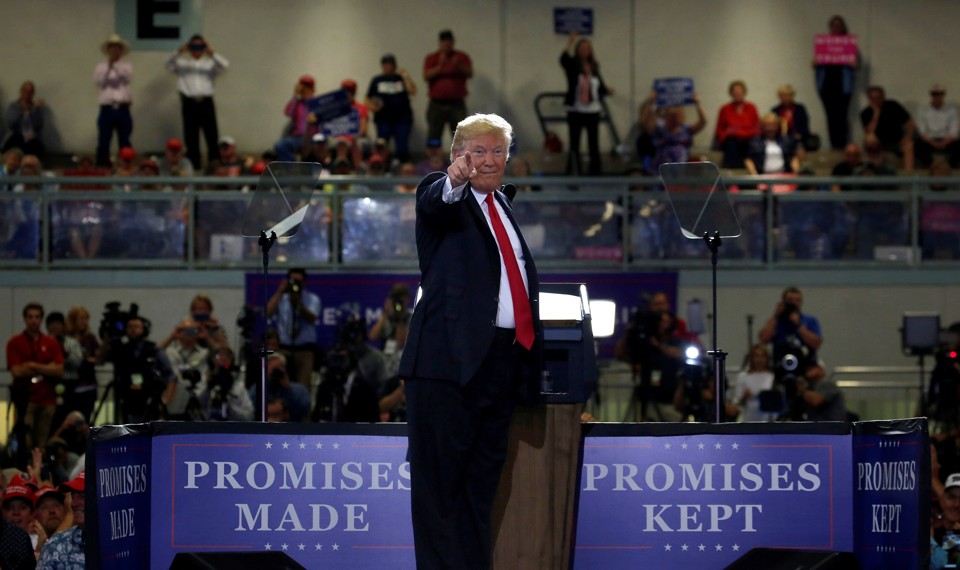 The good news for Donald Trump is that the period from December through early July has been the most productive stretch of his presidency so far. The bad news for Trump is it seems likely to end up as the peak of productivity for his presidency.
From the passage of a package of tax cuts, to his summit with Kim Jong Un, to a second vacancy on the Supreme Court, the president has collected a series of big-ticket triumphs as well as some smaller ones. But many of these wins are either fragile or potentially pyrrhic. Trump's agenda is increasingly thin on new ideas. And with Democrats likely to gain ground in Congress in November, it will not get easier for him going forward.
The chaotic, often-overwhelming nature of the Trump presidency, the ever-expanding list of scandals plaguing him, and the frequent incompetence of administration efforts mean that the real contours of what Trump has done in office are sometimes obscured. It doesn't help that Trump often claims to have done things that he didn't. But it's important to keep a clear tally to understand what is happening, whether one supports or opposes Trump, or is indifferent. Every few months, I've tried to step back and take inventory.
Just as it has been in past tallies, Trump's impact on the Supreme Court seems to be his most lasting constructive achievement. But whereas before Trump had placed one justice on the Court, Anthony Kennedy's retirement has given the president a second slot to fill, and in Brett Kavanaugh he has a nominee likely to win confirmation. Trump could have two appointees on the Supreme Court by the midterm elections. It's a notable example of a promise kept. During the presidential election, Trump wielded the power to nominate as a weapon to keep conservatives from defecting from his campaign. While some social conservatives have grumbled about the nomination of Kavanaugh over other contenders, Trump has kept to his pledge to nominate conservative judges, despite no demonstrable interest in conservative jurisprudence before his entry into politics.
The president is already seeing payoffs. After a series of defeats in lower courts, the White House was dealt a win in late June by the Supreme Court, which deemed Trump's travel ban constitutional. (Justice Neil Gorsuch, whom Trump nominated early in his term after Republicans successfully blocked Barack Obama's nominee Merrick Garland, joined the majority.) Trump …read more
Source:: The Atlantic – Politics
(Visited 2 times, 1 visits today)