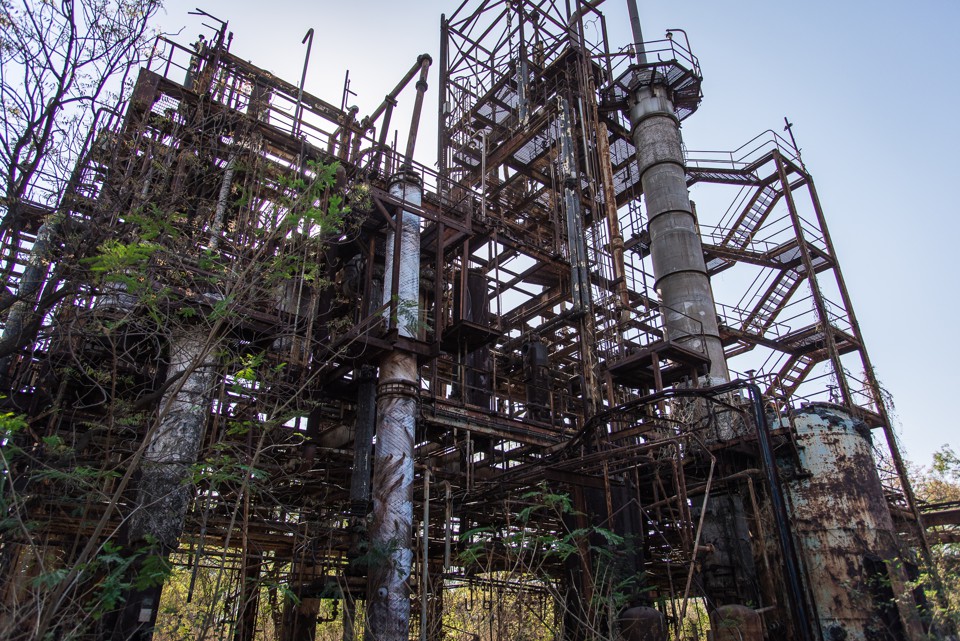 In old Bhopal, not far from the small Indian city's glitzy new shops and gorgeous lakes, is the abandoned Union Carbide factory. Here, in one ramshackle building, are hundreds of broken brown bottles crusted with the white residue of unknown chemicals. Below the corroding skeleton of another, drops of mercury glitter in the sun. In the far corner of the site is the company's toxic-waste dump, shrouded in a sickly green moss. Not 15 feet away, a scrawny boy of about 6 tries to join a game of cricket. A few skinny cows graze next to a large, murky puddle. Strewn on the ground are torn plastic bags, yellowed newspapers, stained paper cups. And in the air, the pungent fumes of chlorinated hydrocarbons.
On December 3, 1984, 40 tons of a toxic gas spewed from the factory and scorched the throats, eyes, and lives of thousands of people outside these walls. It was—still is—the world's deadliest industrial disaster. For a brief time, the Bhopal gas tragedy, as it became known, raised urgent questions about how multinational companies and governments should respond when the unthinkable happens. But it didn't take long for the world's attention to shift, beginning with the Chernobyl nuclear accident a little more than a year later.
In the decades since, many other sites of industrial waste—in New Jersey, Missouri, Ohio—have been cleaned up. But this 70-acre site in Bhopal has, apart from the riotous jungle basil, remained mostly unchanged. Union Carbide Corporation (UCC); its former Indian subsidiary; its current owner, DowDuPont; the state government of Madhya Pradesh; and the central Indian government have all played an endless game of pass the buck. While this charade plays on, and people continue to think of Bhopal's tragedy as one horrific night in 1984, the site still hosts hundreds of tons of contaminated waste. The Bhopal disaster is, in fact, still unfolding.
From the wooden bed outside her two-room house, Munni bi, the grande dame of Annu Nagar, has a wide lens on the devastation. Munni bi's bed is less than 200 feet from a massive pit that UCC filled with toxic sludge, close enough to witness the damage the ganda pani—dirty water—has wrought.
Right next door is 15-year-old Fiza, who didn't speak for the first five years of her life, and still has heart palpitations, dizzy spells, and headaches. The young woman who grew up two doors down, Tabassum, now …read more
Source:: The Atlantic – Science
(Visited 6 times, 1 visits today)