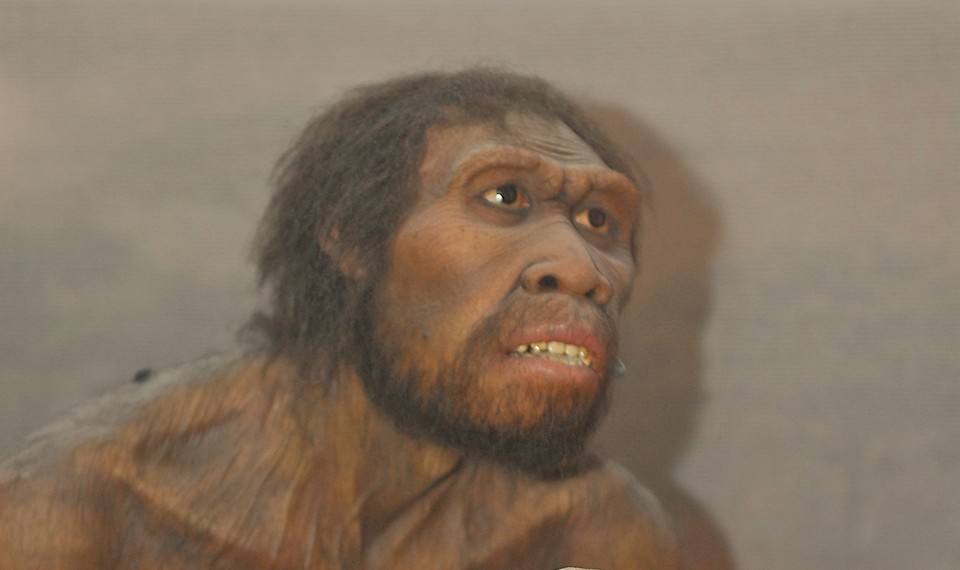 I'm sitting in the sun on one of the first mild days of the spring, talking with a modern-day flintknapper about the origins of human language. His name is Neill Bovaird, and he's neither an archaeologist nor a linguist, just a 38-year-old bearded guy with a smartphone in his pocket who uses Stone Age technology to produce Stone Age tools. Bovaird has been flintknapping for a couple decades, and as we talk, the gok gok gok of him striking a smaller rock against a larger one punctuates our conversation. Every now and then the gokking stops: A new flake, sharper than a razor blade, breaks off in his palm.
I've come to see Bovaird, who teaches wilderness-survival skills in western Massachusetts, because I want to better understand the latest theories on the emergence of language—particularly a new body of research arguing that if not for our hominin ancestors' hard-earned ability to produce complex tools, language as we know it might not have evolved at all. The research is occurring at the cutting-edge intersections of evolutionary biology, experimental archaeology, neuroscience, and linguistics, but much of it is driven by a very old question: Where did language come from?
Oren Kolodny, a biologist at Stanford University, puts the question in more scientific terms: "What kind of evolutionary pressures could have given rise to this really weird and surprising phenomenon that is so critical to the essence of being human?" And he has proposed a provocative answer. In a recent paper in the journal Philosophical Transactions of the Royal Society B, Kolodny argues that early humans—while teaching their kin how to make complex tools—hijacked the capacity for language from themselves.
To understand what Kolodny's getting at, I ask Bovaird to walk me through the history of Stone Age technologies. He starts by smashing an irregular, grapefruit-size stone between two larger rocks. He picks through the resulting fragments, looking for a shard with an excellent cutting edge. This is simple Oldowan technology, he tells me—the first stone tools, used by our hominin ancestors as far back as 2.5 million years ago.
Next, he flashes forward a million years to the technological revolutions of Homo ergaster. No longer did toolmakers simply knock stones together to see what they got; now they aimed for symmetry. Bovaird holds up his work in progress, a late Acheulean hand ax—the multi-tool of the middle-to-lower Paleolithic, good for cutting meat, digging dirt, smashing …read more
Source:: The Atlantic – Science
(Visited 4 times, 1 visits today)