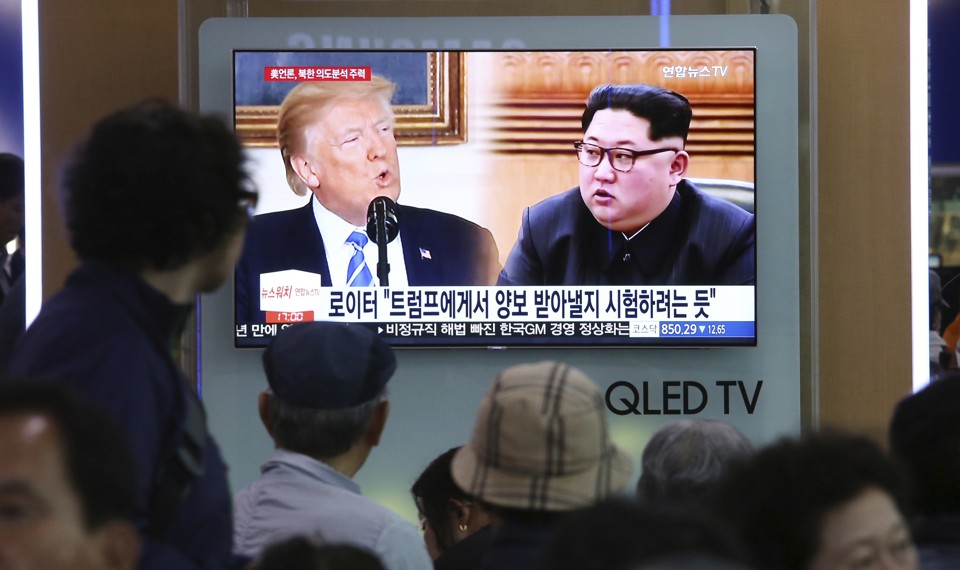 Think of the past few months of President Trump's Korea policy as a drama, unfolding in multiple acts.
Act I: Trump impulsively agrees to meet North Korean dictator Kim Jong Un. Perhaps unaware that the North Koreans have sought such a summit meeting for decades, Trump boasts that he has extracted a major concession.
Act II: Trump gradually comes to appreciate that he has been duped. To prove that he's a winner, not a fool, he begins to oversell the summit, promising that the denuclearization of North Korea is at hand.
Act III: The North Koreans issue a public statement refuting Trump's boasts. No, they will not denuclearize. And oh, by the way, it's Trump who must pay tribute to them, not the other way around: If he wants his summit, he should cancel joint U.S.-South Korean exercises.
We're in Act IV right now—and Act V has yet to be written.
As of midday on May 16, the Trump administration was reacting to the embarrassment of Act III by denying that anything untoward has happened. Throughout his career, Trump has coped with failure by brazenly misrepresenting failure as success.
In 1995, for example, Trump presided over the sale of the Plaza Hotel for $75 million less than he had paid for it in 1988. His ownership stake had long since been extinguished, and by then he was little more than a front for the syndicate of creditors who actually controlled what remained of Trump's portfolio after 1990, when he faced bankruptcy in all but name. Yet Trump insisted of the Plaza purchaser, "I put him through the wringer and made a great deal."
We should probably expect the Plaza Hotel treatment for the coming Kim-Trump summit. Secretary of State Mike Pompeo has demanded Complete Irreversible and Verifiable Denuclearization, CVID in the argot of the negotiators. That will not be forthcoming. But perhaps something else will: a testing pause, maybe, or some other interim measure that can somehow be upgraded into the promised "great deal."
The administration may have little choice by now but to carry on the pretense that it is scoring a great success in its Korea negotiations, and for two reasons.
First, U.S. options in the Korean Peninsula depend heavily on the cooperation of South Korea. Trump has now thoroughly frightened and alienated South Korean opinion. South Korea's dovish president, Moon Jae-in, was elected with only 41 percent of the vote. Polls now show …read more
Source:: The Atlantic – Global
(Visited 1 times, 1 visits today)