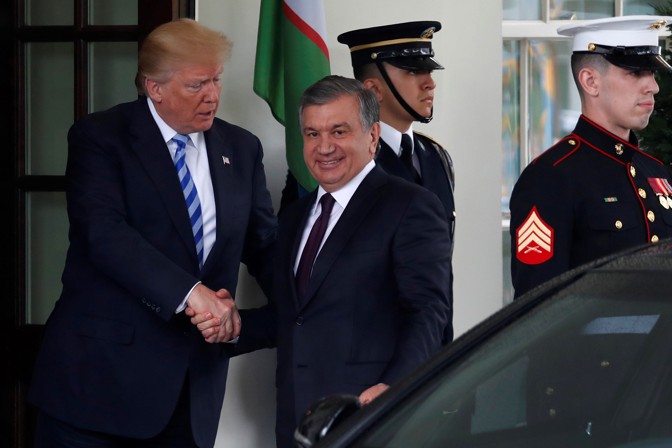 -Written by Lena Felton (@lenakfelton) and Taylor Hosking (@Taylor__Hosking)
Today in 5 Lines
The Office of Government Ethics released President Trump's financial disclosure, which included a reimbursement of more than $100,000 to his lawyer Michael Cohen for a payment to an unidentified third party.
The Senate Judiciary Committee released nearly 2,000 pages of testimony and exhibits related to a 2016 meeting between Trump aides and a Kremlin-connected lawyer. Separately, the Senate Intelligence Committee's leaders said they agree with an assessment by the intelligence community that Russia interfered in the 2016 presidential election.
During his testimony before a Senate Appropriations subcommittee, Environmental Protection Agency Administrator Scott Pruitt, who has been under scrutiny for his conduct and spending, admitted to some of the accusations against him while denying he was wholly to blame.
Michigan State University reached a $500 million settlement with 332 victims of Larry Nassar, the former Olympic doctor convicted of sexually abusing young female athletes.
The Senate Intelligence Committee voted to advance the nomination of Gina Haspel, Trump's pick to be CIA director.
Today on The Atlantic
The 9.9 Percent: "The meritocratic class has mastered the old trick of consolidating wealth and passing privilege along at the expense of other people's children," writes Matthew Stewart in this month's cover story.
Lingering Mysteries: It's been a year since Special Counsel Robert Mueller was appointed to lead the investigation into Russia's election interference. Here's what we've learned so far. (Natasha Bertrand)
The Great Immigration Bargain: Reihan Salam argues that it's possible for President Trump to implement the restrictionist immigration agenda he wants—he just has to accept that a sweeping amnesty is the only way to make it happen.
Year of the Woman?: In order to retake the House, Democrats need to win in Pennsylvania. And they're going to be relying on these women to do it. (Elaine Godfrey)
SnapshotPresident Trump greets Uzbekistan's president, Shavkat Mirziyoyev, at the White House. Jonathan Ernst / Reuters
What We're Reading
New Jersey's Political Makeover: In the months since Democratic Governor Phil Murphy took the reins from Chris Christie, he's pushed the state further and further to the left. Now people are wondering: Is he going too far? (Nick Corasaniti, The New York Times)
How House Republicans Are Trying to Win the Midterms: They're bombarding voters who are less likely to support traditional GOP candidates with Trump-specific digital advertising. (David M. Drucker, Washington Examiner)
'They've Had …read more
Source:: <a href=https://www.theatlantic.com/politics/archive/2018/05/the-atlantic-politics-policy-daily-fullish-disclosure/560591/?utm_source=feed target="_blank" title="The Atlantic Politics & Policy Daily: Full-ish Disclosure" >The Atlantic – Politics
(Visited 6 times, 1 visits today)