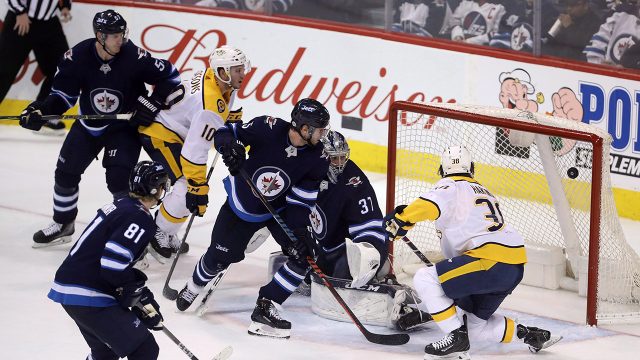 LAS VEGAS – Missing one game in the Western Conference final was hard for David Perron. Waiting 11 years to play in the third round of the National Hockey League playoffs was excruciating.
Perron skated Wednesday morning with the Vegas Golden Knights and looked well enough to play Game 3 of the conference final against the Winnipeg Jets, although the winger's inclusion in Wednesday night's lineup was to be a game-time decision.
"You'll find out tonight," Vegas coach Gerard Gallant said.
Having seen this stage of the Stanley Cup tournament only on television, Perron is desperate to play. It's a little startling, considering he has been a good player on some very good teams the last decade, that Perron is this deep into the playoffs for the first time.
"Eleven years and you get to go past the second round for the first time, basically on a team that no one expected," Perron told Sportsnet on Wednesday. "It's very special.
"It's not the way I pictured the year, starting in October. But when we started putting the work together, everyone getting the belief system to be higher and higher, maybe by December or January we were hoping to be in the playoffs. We started to shed away the 'expansion team' label in here, and we started to believe we're just one of the teams in the NHL and we can compete like everybody else.
"It just shows that any team is not that far away; you just have to have the right mindset, the right mentality, the right coaches to believe in guys and stick with their guys."
And, of course, the right players.
Perron has been a fairly important component on good teams in St. Louis, Pittsburgh and Anaheim. Throw out his full season in Edmonton during the hopeless era before Connor McDavid arrived and the 29-year-old from Sherbrooke, Que., has made the playoffs for six straight years.
But last season, with the St. Louis Blues, was just the second time in his career that Perron made it past the Stanley Cup's opening round. The Blues were eliminated in six second-round games by the Nashville Predators, the same team that won Game 7 against Perron's Anaheim Ducks in Round 1 the previous year.
That was the season, 2015-16, when the struggling Pittsburgh Penguins traded him to Ducks in January for Carl Hagelin and went on to win the Stanley Cup without him.
When …read more
Source:: Sportsnet.ca
(Visited 2 times, 1 visits today)