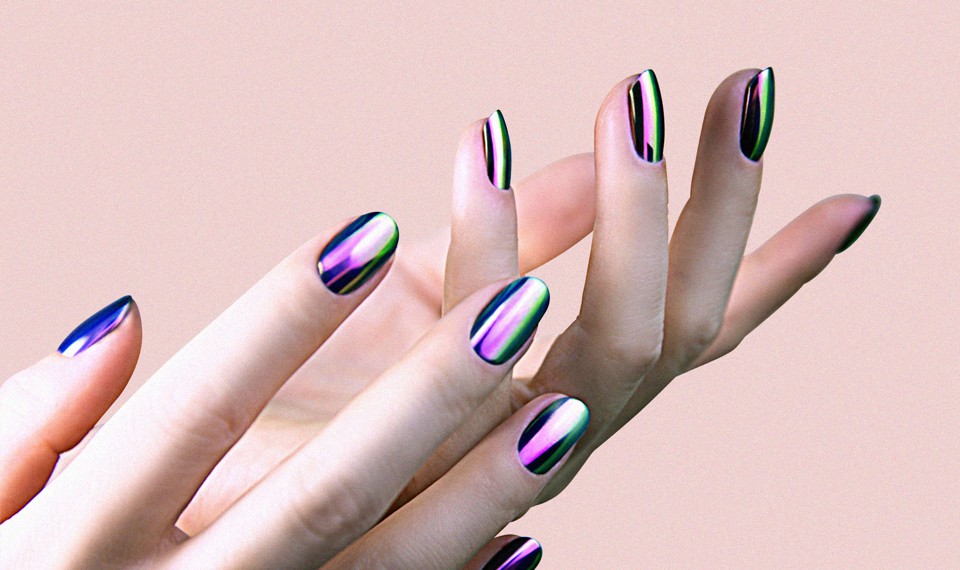 As I type these words, my nails are 10 small silver mirrors, reflecting the overhead fluorescent lights as I move my fingers across my keyboard. I learned about these so-called "chrome" nails from The Atlantic's fashionable deputy web editor Swati Sharma, and shortly thereafter, she and I went and got manicures so I could see the process in action. The mirror effect was created with a special powder that a nail technician, as they're referred to in the industry, rubbed onto a layer of polish with a tiny sponge. It was mesmerizing, and a little mystifying. How did the glitter powder transform into a solid, shiny surface?
We have the red-carpet mani cam to thank, at least partially, for the surge in popularity of nail art, says Beth Livesay, the executive editor of Nails magazine. When celebrities started treating their nails as canvases for miniature art, the trend caught on with the public, too. But lately, the nail-art galleries of Pinterest and Instagram have been displaying not just polish hand-paintings, but futuristic-looking effects like chromes, cat's-eyes, and holographic rainbow nails.
"Right now, the trends are the effects," Livesay says. "The bar's been raised universally for nail art."
I spoke with a couple cosmetic chemists to understand the science behind turning normal human nails into mirrors, or gemstones, or shimmering fish scales. They explained the basic chemical processes behind polishes and effects. (I can't, however, confirm the exact ingredients of many specific brand's products. I reached out to O.P.I., Orly, Creative Nail Design, and Whats Up Nails—all of which declined to be interviewed or did not return requests for comment.)
It starts with understanding how regular nail polish works, and how the longer-lasting "gel" manicures are different. Regular polish, or "lacquer" as some in the industry call it, is made of polymers—long chain molecules that are good at forming strong structures—dissolved in solvents. Once the polish is painted on, the solvents evaporate, leaving behind the film formed by the polymers (and the pigment that gives it color). Lacquers also often include other resins and plasticizers to help the polish adhere to the nail, and to make it more flexible. To remove it, you apply a solvent in the form of nail-polish remover (typically containing acetone or ethyl acetate), and the lacquer dissolves.
"It's very much like hairspray," says Doug Schoon, the president of Schoon Scientific and a former chief …read more
Source:: The Atlantic – Science
(Visited 5 times, 1 visits today)