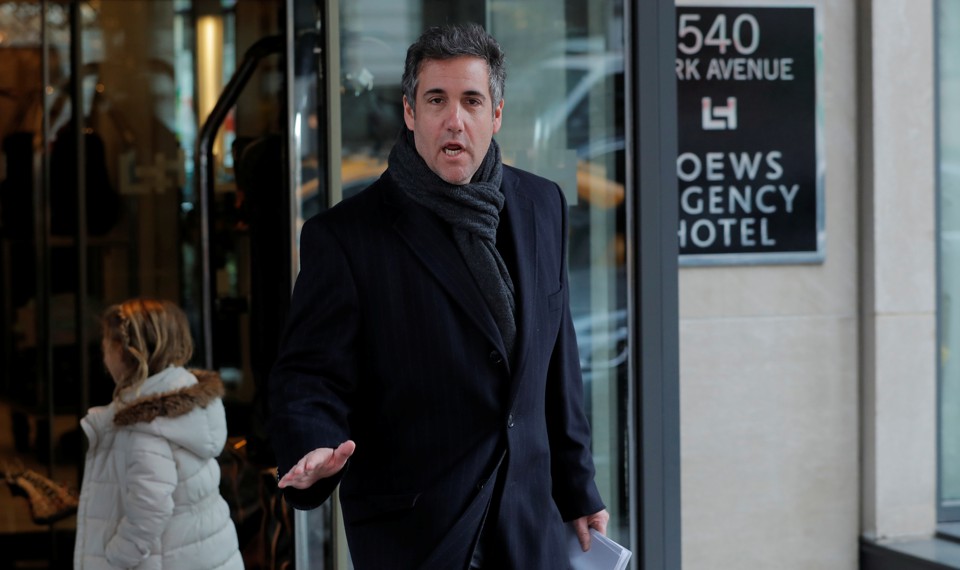 On April 6, FBI agents raided the home, hotel room, and office of President Trump's personal lawyer Michael Cohen. We now have a sense of the scope of their search: Investigators appear to have been seeking material relating to, among other things, the Access Hollywood tape, Cohen's payments to two women who signed non-disclosure agreements regarding their alleged affairs with Trump, and communications between Cohen and two leaders of the National Enquirer, who may have played a role in silencing stories unfavorable to Trump. And with that, two of the major stories of the last year—the Russia investigation and the president's history of sexual impropriety and harassment—began to converge.
The convergence is not entire. The agents raiding Cohen's office and residences were acting not on behalf of Special Counsel Robert Mueller, but for federal prosecutors for the U.S. Attorney's Office for the Southern District of New York, on the basis of a referral from Mueller's office. Deputy Attorney General Rod Rosenstein, who oversees the Mueller investigation, may have signed off on that referral precisely to keep the special counsel from overstepping the bounds of his probe into Russian election interference and obstruction of justice. What's more, a government court filing suggests that federal prosecutors have been conducting an investigation into Cohen for some time.
Trump's strategy for responding to these developments was the same as always: deny any wrongdoing and insist that the fault lies instead with the investigators. ("Attorney-client privilege is dead!" he tweeted. "NO COLLUSION!!!") It's the same instinct that has reportedly led him to argue that the voice making vulgar comments on the Access Hollywood tape isn't really his own. In fact, the tape is real enough that federal law enforcement is reportedly looking into it as part of the investigation into Cohen.
The president is a fabulist unmoored from the truth. And the confluence of the Russia investigation and Trump's disturbing behavior toward women shows what happens when a serial liar collides at full speed with a legal system premised on the idea that words have meaning, and actions result in consequences. Trump's obfuscation has been alarmingly effective in the realm of politics. It will likely prove less so in the courtroom, a space reserved for evaluating facts and weighing the consistency of arguments—though as president, Trump is unlikely to find himself on the wrong end of a criminal prosecution.
A liar acts to obscure the truth, …read more
Source:: The Atlantic – Politics
(Visited 4 times, 1 visits today)