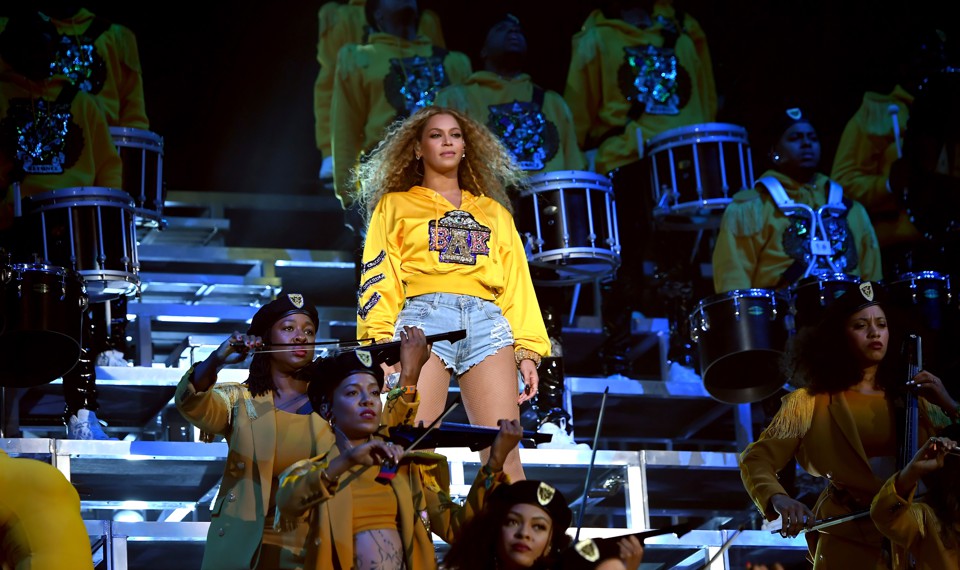 More than 100 dancers and musicians get hired for a mononym's megafestival performance: We know, in some ways, what it's going to look like. It's going to look like the first moments of Beyoncé's conversation-breaking Coachella set, in which leotard-wearing women formed two lines on a catwalk into the crowd, making way for Beyoncé in regal cape and headpiece. When people talk about pop stars as gods, they are drawing from imagery such as this. Or such as Madonna's 2012 Super Bowl show, in which she commanded a hard-bodied Roman batallion. Or Kanye West's 2016 Madison Square Garden event, when a village of models stood, supernaturally frozen, for an album's length.
Like with superheroes or presidents, the modern pop star—another of America's favored entertainment archetypes—engineers hierarchy and order, in ways that are viscerally satisfying and, at times, intellectually creepy. Mass choreography dazzles in part because it tells us that individuals need not individuate all the time, and that there is glory in surrender to a collective cause. Don't read too much into this comparison, but Susan Sontag once noted such an aesthetic dynamic in the works of the Nazi propagandist Leni Riefenstahl. "Triumph of the Will uses overpopulated wide shots of massed figures alternating with close-ups that isolate a single passion, a single perfect submission," she wrote. "Clean-cut people in uniforms group and regroup, as if seeking the right choreography to express their ecstatic fealty."
Ecstatic fealty: There's a term for what pop stars inspire in their fans, and what their dancers often seem to be expressing, no? But one aspect of Beyoncé's brilliance is that she channels the dynamism of mass movement to make statements that are, relentlessly, democratizing. "Queen" feels like an inapt title for her when she presents herself as a squad leader for a revolutionary justice squad, or throws herself into a mosh pit of multicultural punk rockers, or gathers together an intergenerational group of women united in their struggle with personal betrayals and social mistreatment. At Coachella, Beyoncé's staged her starkest and most joyful subversion of lockstep choreo yet. She fostered a mass ecstasy less of fealty than of solidarity.
A post shared by Beyoncé (@beyonce) on Apr 15, 2018 at 9:31am PDT
The basic concept: Coachella became a pep rally for Beyoncé's imagined black college or university, with scores of horn players and drummers summoning a ruckus from bleachers behind …read more
Source:: The Atlantic – Culture
(Visited 9 times, 1 visits today)