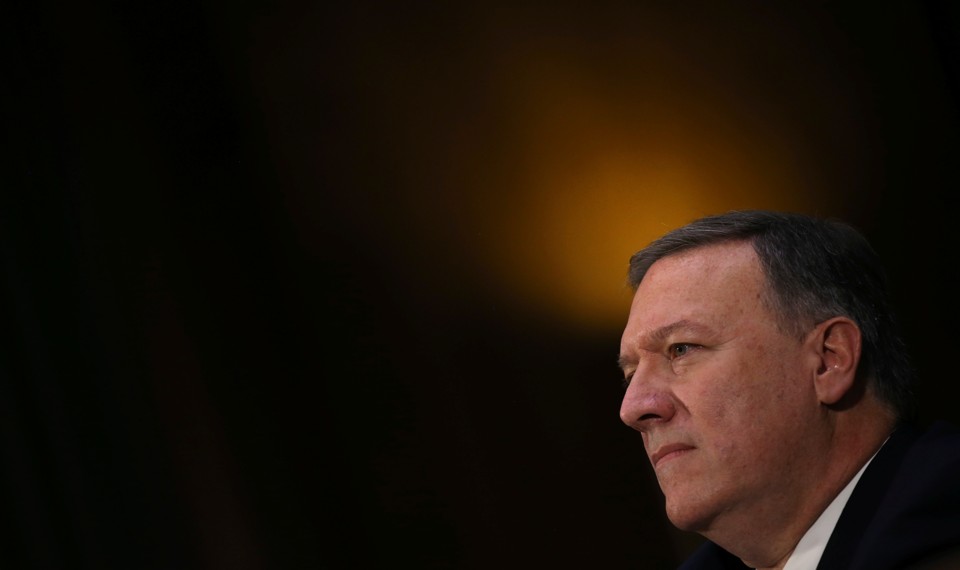 Just two days before he was named Rex Tillerson's successor as secretary of state, CIA Director Mike Pompeo appeared on the Sunday morning shows and staked out exceedingly ambitious goals for Donald Trump's upcoming summit with North Korean leader Kim Jong Un. Pompeo, an unsparing critic of the nuclear agreement with Iran, vowed to not repeat Barack Obama's mistakes. What he promised was breathtaking: that President Trump would secure a better deal with North Korea, which already has a sophisticated nuclear-weapons arsenal, than his predecessor did with Iran, which had yet to acquire nuclear weapons.
"The previous administration was negotiating from a position of weakness. This administration will be negotiating from a position of enormous strength," Pompeo said on CBS's Face the Nation. He noted that the Trump administration's international sanctions campaign had forced North Korea to engage diplomatically with the United States and suspend its nuclear and missile tests while doing so. The administration's plan for the talks, he explained, is to maintain and increase economic pressure on North Korea while aiming for the "complete, verifiable, irreversible denuclearization of North Korea."
The remarks are telling in light of Tuesday's news that it will be Pompeo leading America's outreach to North Korea when he replaces Rex Tillerson at the State Department. Pompeo will become the nation's chief diplomat just as the Trump administration is preparing to negotiate directly with the North Koreans for the first time. And his public statements about North Korea's nuclear program offer clues about where and how his approach will differ from Tillerson's.
At the State Department and CIA, respectively, Tillerson and Pompeo have both prioritized the North Korean nuclear threat and focused on pressuring North Korea economically and diplomatically. But whereas Tillerson has expressed eagerness to create the right conditions for negotiations with North Korea, Pompeo has voiced profound skepticism about what such talks can accomplish. Whereas Tillerson has been thoroughly marginalized by the White House, Pompeo has managed to maintain the president's trust, regularly delivering Trump's intelligence briefings in person. And whereas Tillerson has been associated with a faction in the administration resistant to military options to deal with the North's nuclear program, Pompeo has taken a more aggressive position. Tillerson once declared that the United States wasn't seeking regime change in North Korea; Pompeo once remarked, rather suggestively, that the administration was seeking ways to "separate" Kim Jong Un from his nuclear weapons.
Pompeo's …read more
Source:: The Atlantic – Global
(Visited 5 times, 1 visits today)