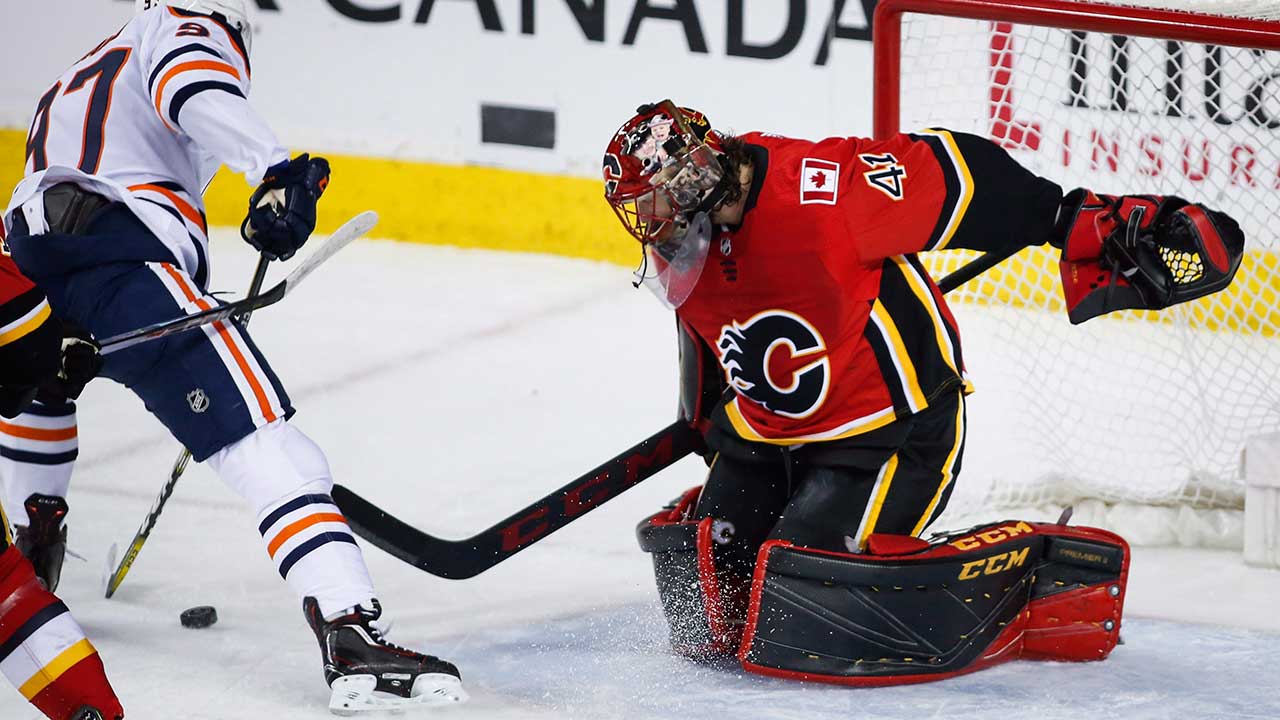 CALGARY — There are different kinds of goalies, and the Calgary Flames have seen both over the years.
They had Miikka Kiprusoff, who would say as much after a shutout as he would after he'd let in six. The quiet Finn we called "Turku Broda" did his leading on the ice, and left the 'rah, rah' stuff to everyone else.
Then there is current netminder Mike Smith, who allowed four goals on 26 shots against the New York Islanders Sunday night, then walked into a post-game media scrum and let his teammates have it.
"It's right here: mental," the 35-year-old said after Sunday night's loss, pointing to his temple. "Every guy has got to play out of their comfort zone. Our top guys have got to do the little things it takes to win — block shots and chip pucks. And our bottom six guys have got to contribute offensively and do the little things also.
"We can't have any passengers if we're going to right the ship here and make a big push."
if ( "1" == true && 'undefined' !== typeof window.getIndexAds ) {
var so = {preroll:{1:{1:{siteID:191888},2:{siteID:191889}}}};
adServerUrl = window.getIndexAds( 'http://pubads.g.doubleclick.net/gampad/ads?sz=640×360&iu=%2F7326%2Fen.sportsnet.web%2FVideo&ciu_szs=300×250&impl=s&gdfp_req=1&env=vp&output=vast&unviewed_position_start=1&ad_rule=1&vid=5749499272001&cmsid=384', so, permalink);
} else {
adServerUrl = "http://pubads.g.doubleclick.net/gampad/ads?sz=640×360&iu=%2F7326%2Fen.sportsnet.web%2FVideo&ciu_szs=300×250&impl=s&gdfp_req=1&env=vp&output=vast&unviewed_position_start=1&ad_rule=1&vid=5749499272001&cmsid=384";
}
$el.after( unescape("%3Cscript src="" + (document.location.protocol == "https:" ? "https://sb" : "http://b") + ".scorecardresearch.com/beacon.js" %3E%3C/script%3E") );
$( document ).one( 'ready', function() {
$( "#video_container-690822" ).SNPlayer( {
bc_account_id: "1704050871",
bc_player_id: "rkedLxwfab",
//autoplay: false,
//is_has_autoplay_switch: false,
bc_videos: 5749499272001, …read more
Source:: Sportsnet.ca
(Visited 6 times, 1 visits today)