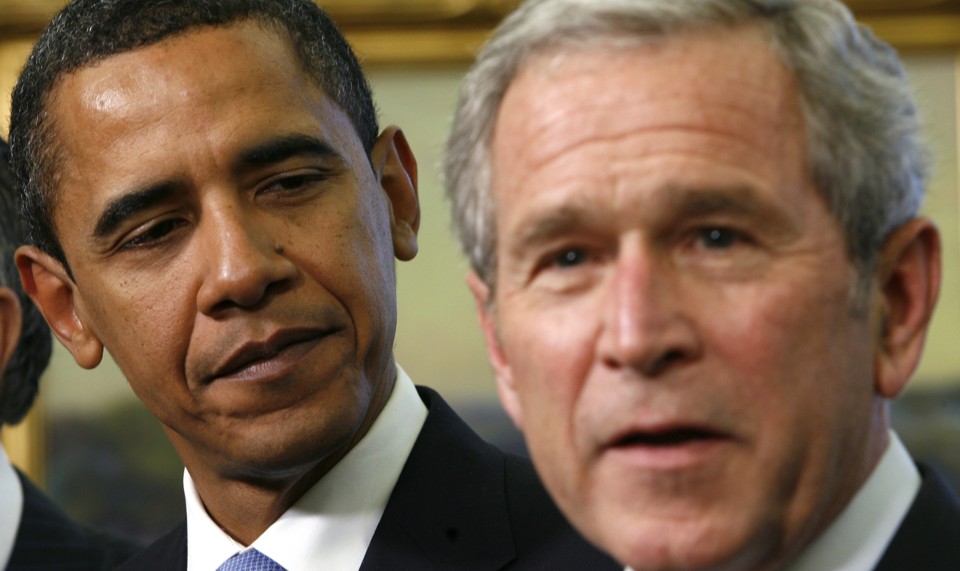 Much has been made of President Trump's disregard for rules and norms—boundaries delineated by ethics and morality if not written laws themselves. But transgressing laws, rules, and norms isn't the only way to destroy them. Another way is simply not to enforce them.
In that regard, the 44th president, Barack Obama, bears a measure of responsibility for the recklessness of his successor, in particular Trump's decision to appoint Gina Haspel, the Central Intelligence Agency's deputy director, to run the agency itself. Haspel oversaw the torture of at least two detainees at a black site during the Bush era, and then played a role in a decision to destroy evidence of their mistreatment.
One of the detainees, Abu Zubaydah, was subjected to waterboarding, sleep deprivation, being slammed against a wall, and more. "After several waterboarding sessions," the New Yorker's Dexter Filkins reported, "Abu Zubaydah was so broken that, when a C.I.A. agent snapped his fingers twice, he would lie down on the waterboard, naked and dirty, to await his torture." The CIA claimed torturing Abu Zubaydah saved lives; Zubaydah's FBI interrogator Ali Soufan wrote that all the actionable intelligence was gleaned prior to his being tortured. Abd al-Rahim al-Nashiri, another detainee tortured under Haspel's supervision, provided "essentially no actionable information," according to a CIA interrogator cited in the Senate Intelligence Committee's torture report.
Before Obama even took office, he announced his belief that "we need to look forward as opposed to looking backwards" on torture. That set the standard for Obama's tenure, as all avenues of accountability for Bush-era torture were curtailed. A Justice Department inquiry into interrogators who broke even the "acceptable torture" guidelines ended with no charges. Civil lawsuits from former detainees were blocked when the Obama-era Justice Department invoked the state secrets doctrine. An internal Justice Department review of the torture memo authors concluded they had not committed professional misconduct when they worked backwards to justify the Bush administration's use of torture in defiance of laws against it. Even a proposal for a South African-style "truth and reconciliation" commission was rejected. All avenues for any form of accountability for torture—criminal, civil, even professional—were blocked by Obama-era officials. Even an episode in which the CIA spied on Senate staff in an effort to stonewall an inquiry that ultimately found CIA torture ineffective, and then lied about having done …read more
Source:: The Atlantic – Politics
(Visited 2 times, 1 visits today)