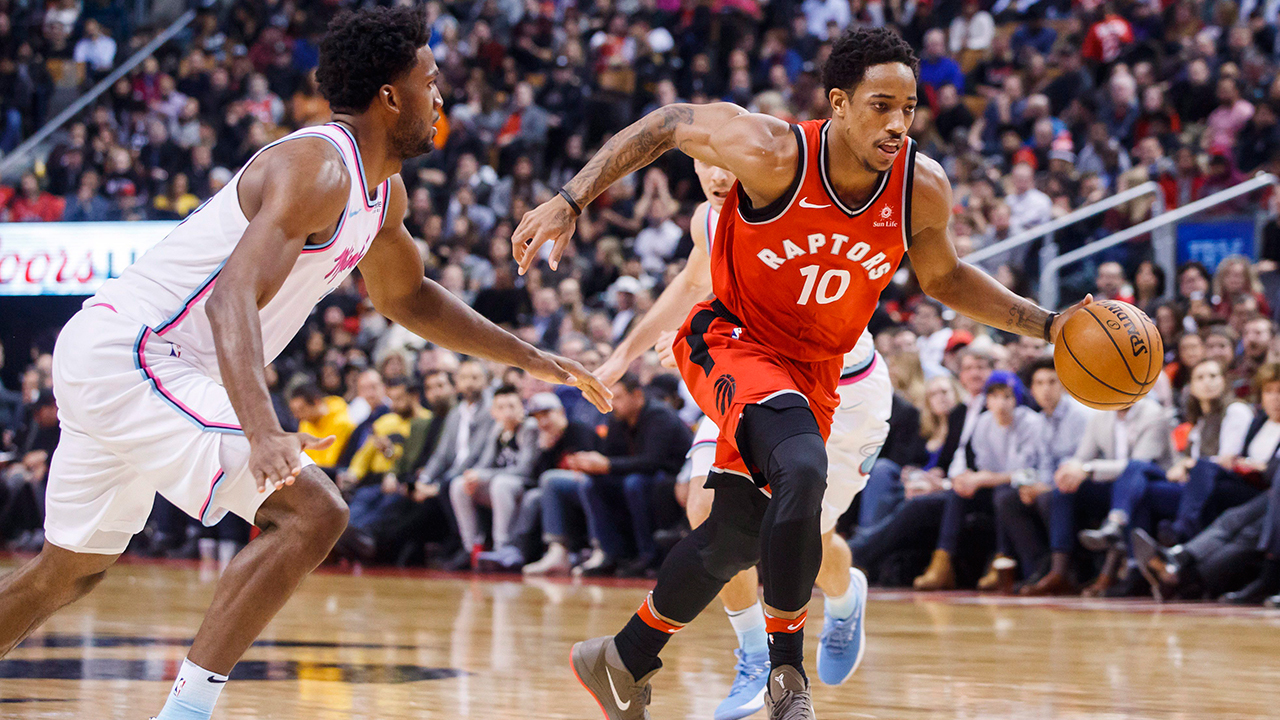 TORONTO — It was a little unusual watching the Toronto Raptors bench struggle in the second quarter Tuesday night. It had just been so long. The Raptors came in on a five-game win streak, and four of the team's starters hadn't seen the floor in a fourth quarter throughout. Toronto's bench wasn't just playing like one of the best second units in the NBA — it was one of basketball's best units period. Maybe they were due.
Either way, the Raptors finally needed their starters to play like, you know, starters. And that's what happened — DeMar DeRozan poured in 27, Kyle Lowry scored 22, and Serge Ibaka contributed 14 as Toronto topped the Miami Heat, 115-112.
For the first time since the end of January, Toronto's two all-stars — plus Jonas Valanciunas — had to play fourth quarter minutes. And they looked like they enjoyed it, as they piled on against the Heat and fought off a late comeback attempt. Of course, there was a small measure of revenge at hand.
You may recall the last time these two teams met, a 90-89 Miami win on January 9. It was a much different world. The Heat were in the midst of a seven-game win streak; the Raptors were well back of the Boston Celtics for first place in the Eastern Conference; Dwyane Wade was a Cleveland Cavalier.
Now? The Heat came in having lost five of six; the Raptors are first place in the East; and Wade is back in South Beach where he belongs, playing out the end of his hall-of-fame career.
That early January loss to the Heat also sticks out as one of the uglier games the Raptors have played since the turn of the calendar. Toronto shot 39 per cent, hit only seven threes, and was outrebounded to an almost embarrassing degree, 64-37.
Ibaka was ejected for trading punches with James Johnson. The Heat clinched the win with an easy bucket in the dying seconds, exploiting a brutal defensive miscommunication between OG Anunoby and Pascal Siakam. DeRozan finished the game exchanging shoves with Goran Dragic. It wasn't a banner night.
Perhaps trying to make up for the lack of three-pointers the last time around, the Raptors were clearly looking to shoot early on Tuesday, taking six threes in the game's first six minutes. That included two successful attempts by Anunoby, who played 12 minutes …read more
Source:: Sportsnet.ca
(Visited 3 times, 1 visits today)