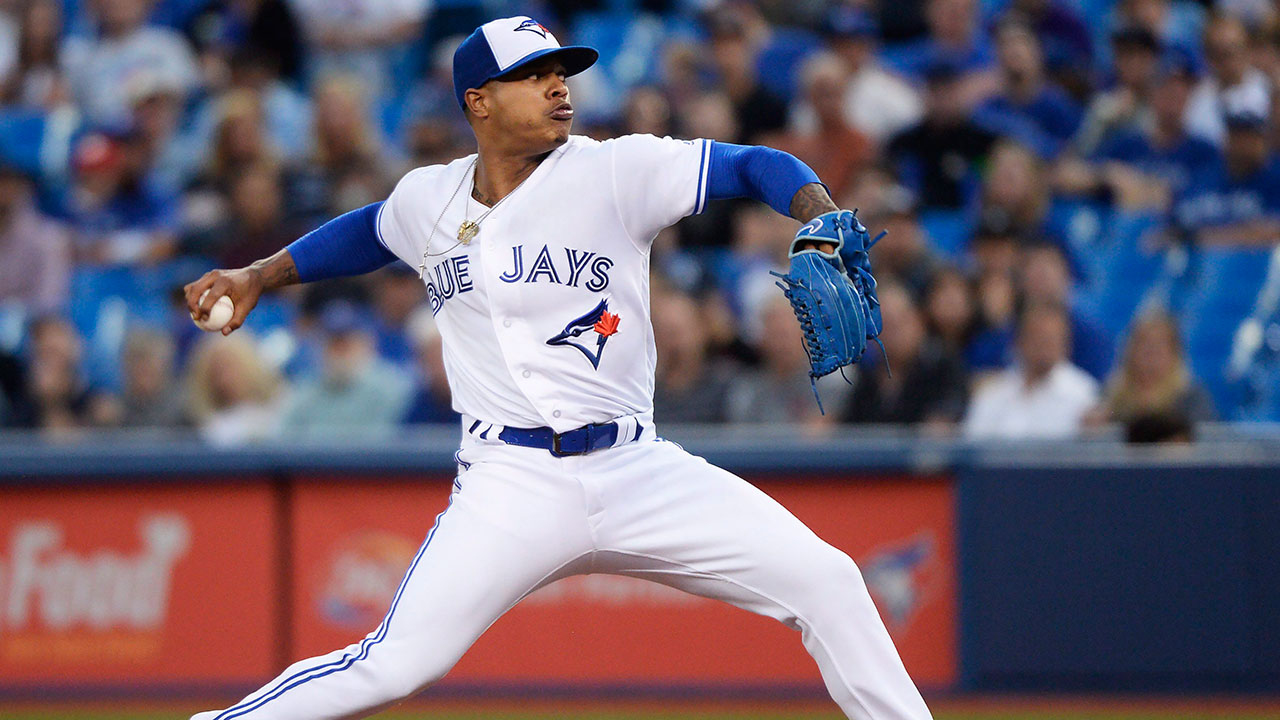 TORONTO — Mark Buehrle and RA Dickey never lit up radar guns, never struck batters out in bunches, never left an opposition lineup looking particularly overwhelmed. But each man did provide a crucial, underrated service during their tenures as Toronto Blue Jays: they gobbled up innings.
Buehrle threw 198.2 or more innings in each of his three seasons in Toronto, accumulating 604.1 in all. Dickey surpassed the 200 mark in three of his four campaigns, finishing with 824.1 as a Blue Jay.
That's a lot of work. And when Toronto shed both those pitchers over the last two seasons, it left a vital role unfilled in Toronto's rotation. Who was going to carry the load for the Blue Jays pitching staff? Who was going to be the workhorse?
Enter Marcus Stroman, who allowed two runs (both unearned) on six hits over six innings Wednesday night in Toronto's 2-1 loss to the Baltimore Orioles. That outing brought Stroman's season total up to 184.1 innings pitched (with a 3.08 ERA that sits fourth in the American League, mind you).
Assuming he remains healthy and effective over his three remaining starts, Stroman is a very good bet to accumulate the 15.2 frames he needs for his second consecutive 200-inning season. In fact, Stroman has now pitched the eighth-most innings in baseball over the last two years with 388.1.
if ( "1" == true && 'undefined' !== typeof window.getIndexAds ) {
var so = {preroll:{1:{1:{siteID:191888},2:{siteID:191889}}}};
adServerUrl = window.getIndexAds( 'http://pubads.g.doubleclick.net/gampad/ads?sz=640×360&iu=%2F7326%2Frogers.broadcast%2FSportsNet.Sportsnet%2FVideo&ciu_szs=300×250&impl=s&gdfp_req=1&env=vp&output=vast&unviewed_position_start=1&ad_rule=1&vid=5575532979001&cmsid=384', so, permalink);
} else {
adServerUrl = "http://pubads.g.doubleclick.net/gampad/ads?sz=640×360&iu=%2F7326%2Frogers.broadcast%2FSportsNet.Sportsnet%2FVideo&ciu_szs=300×250&impl=s&gdfp_req=1&env=vp&output=vast&unviewed_position_start=1&ad_rule=1&vid=5575532979001&cmsid=384";
}
$el.after( unescape("%3Cscript src="" + (document.location.protocol == "https:" ? "https://sb" : "http://b") + ".scorecardresearch.com/beacon.js" %3E%3C/script%3E") );
$( document ).one( 'ready', function() {
$( "#video_container-422232" ).SNPlayer( {
bc_account_id: "1704050871",
bc_player_id: "rkmmSMi5x",
…read more
Source:: Sportsnet.ca